If you google "how to cook lentils" the typical recipe will instruct to bring a cup of lentils and three or four cups of water to boil, reduce heat, and simmer until tender, twenty to twenty-five minutes. Between bringing the water to boil and simmering the lentils, total cook time is around thirty-five minutes. For years, this was my lentil cooking method.
Working on my last book, How to Cook Without a Book, I came to realize that soaking lentils, a la dried beans, significantly reduced their cooking time. (It actually works for dried pasta too!)
In that book, I advise to soak lentils from four to twenty-four hours and then drain and cook them in the usual three cups of water. This brings the total cook time down to twenty minutes compared with thirty-five, a respectable times savings when you're starting from scratch on a weeknight.
In developing Lentil-Walnut Mix for Planetarian Life, I wanted to bring cook time down even further.
Cutting Down Cook Time
I accomplished this by doing two things; changing pan sizes and reducing the water. Switching from a small Dutch oven to large skillet, I increased the surface area, allowing me to cook a full pound of lentils very quickly. When I discovered the lentils were actually done in less than ten minutes, I was able to cut back to a mere one cup of water. Less water meant reduced cooking time.
While it doesn't hurt lentils to cook longer, I was pleasantly shocked the soaked lentils were done in just four minutes as the last few tablespoons were evaporating from the pan. To ensure the lentils were fully and evenly cooked, I turned off the burner and left the lid on the pan an extra minute. I let the lentils steam a little longer without the worry of the liquid fully evaporating.
One note of caution. There's enough liquid in the pan that the lentils will fully cook before the water evaporates, but make sure to stick near the kitchen or at least set a timer for four minutes so the pan doesn't dry out. If you soak and cook your lentils this way, you will be ready to make Lentil-Walnut Mix or Capsule Kitchen Lentil Stew in less ten minutes.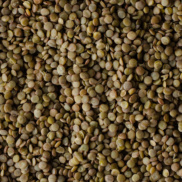 How To: Soak and Cook Lentils
Recipe Notes
Ingredients
1

pound

brown lentils

Regular table salt
Instructions
Mix lentils and 1 tablespoon of salt in 6 cups of water for 4 hours and up to 24 hours.

Drain lentils and turn them into a large (12-inch) skillet with 1 cup of water. Cover and bring to a boil over high heat; reduce heat to medium-high and continue to cook, covered, until most of the water has evaporated and lentils are just cooked through, 3 to 4 minutes. Remove from heat and let stand, covered, a minute or so longer. (Can be cooled and refrigerated in a covered container for at least a week and frozen for several months.)