It's been an especially hot week and we had a long morning of errand-running, including a stop at the grocery store. An hour of driving with a six-year-old and a toddler, the errands themselves, and all of the loading and unloading, we walked in the kitchen exhausted and starved, asking the usual question, "What's for lunch?"
With some massaged kale in the fridge and a package of baby hearts of Romaine we had just brought in, we started to build our salad. A can of black beans in the pantry and some leftover corn in the fridge, we add substance and protein. We found a half a yellow bell pepper and red onion in the vegetable drawer, and the last couple of tablespoons of olive salad from a jar that needed using up. Our salad now had color and interest. It was coming together, but it needed crunch. "Crumbled tortilla chips!" we exclaimed at the same moment. Jinx.
We could have added cherry tomatoes, but we saved time by adding in jarred salsa, giving us a taste of tomato and the start of a tasty dressing. A drizzle of oil, a sprinkle of salt and pepper, and a few drops of red wine vinegar, and we tossed up a beautiful salad. As we took our first bite, one of us said, "This is EXACTLY what I want and my body needs."
Our little fly-by-the-seat-of-our-pants weekday salad perfectly demonstrates what we think are the key building blocks of a satisfying Planetarian salad. Read on for Salad 101.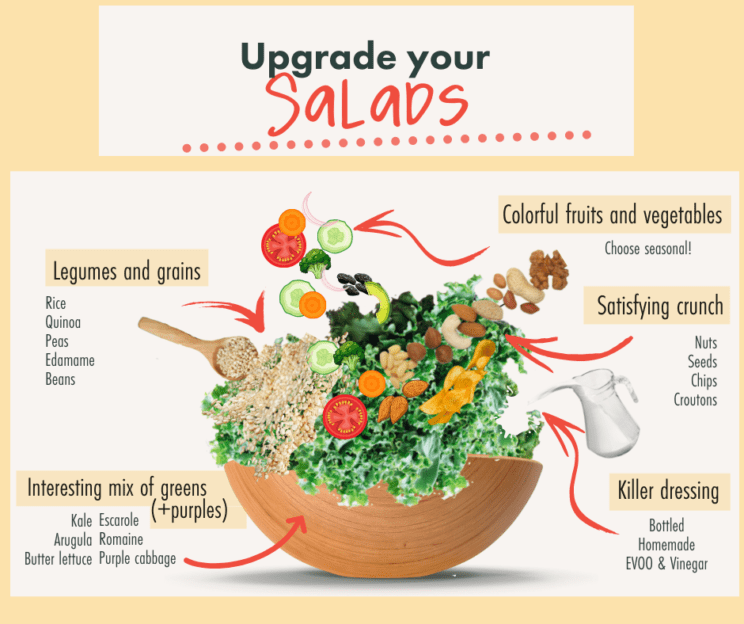 1) An Interesting Mix of Salad Greens (and Purples!)
We love the hearty ones like Massaged Kale, shaved cabbage, hearts of romaine, escarole, and radicchio. To these substantial greens, we mix in more delicate ones—butter lettuce, arugula, leaf lettuce, and spring mix, for example—to create an array of interesting textures and colors.
2) Legumes and Grains
We keep canned beans on our shelf, cooked quinoa in the fridge, and greens peas and corn in the freezer so that in no time, we can add substance and protein to our salads in the warmer months (and soups in the cooler ones).
3) Colorful Fruits and Vegetables
Whether it's dried cranberries and roasted root vegetables in the fall, strawberries and fennel in the spring, or tomatoes and cucumbers at the height of summer, these extra salad ingredients reflect the season, add interest, texture, and nutrition, and bring your salad to life.
4) Satisfying Crunch
Toasted nuts and seeds like our Roasted Smoky Pepitas, Spiced Nuts, crumbled tortilla and pita chips also add substance (and fun!)
5) Killer Dressing
There is no quicker way to ruin a good salad than bad dressing. There are a few good jarred dressings out there— Brianna's Rich Poppy Seed Dressing, for example, but in my view homemade is best. And it takes just minutes to make a great vinaigrette. No time for that? Simply drizzle and toss your salad with a glug of extra virgin olive oil, a generous sprinkling of kosher salt and fresh ground pepper, and a light drizzle of vinegar or lemon juice to taste. As we did with the salsa in the salad we just described, we often stir in pesto to punch up the flavor of our oil and vinegar dressings.
When you've got things on hand like Massaged Kale, Classic Balsamic Vinaigrette (which always gets reviews like "What is this dressing? It is SO good!") Pickled Pink Onions, and Roasted Smoky Pepitas, and A Pot of Beans, you've got all of the elements of a Perfect Planetarian Salad before you've added another single ingredient to the bowl. So, this week make a few of these elements and become a Planetarian salad pro.