I went through a phase when moussaka was my regular party dish for a crowd.  I loved that it was like lasagna. Yes, there were components to make and layers to assemble, but once the dish was built, the main course went on autopilot. Nothing to do the night of the party except uncover it and pop it in the oven. The savory cinnamon-scented aroma wafting from the kitchen when guests arrived stimulated their palates and piqued their curiosity.
When hosting an adventurous lot, I'd make it with lamb. For the general consumption, I'd sub in crowd-pleasing beef. It was finally time for me to develop a moussaka that everyone could enjoy.
Simplifying the Eggplant Layer of the Moussaka
Planetarian Moussaka starts with a layer of eggplant. Some moussaka recipes slice the eggplant into planks for distinct layers. For two reasons, I opted against this method. Roasting eggplant slices meant dirtying multiple pans and cooking in batches. It also meant I couldn't flavor the eggplant as much as I wanted. By dicing the eggplant, I was not only able to fit two eggplants on one large, rimmed baking sheet, I could also infuse the eggplants' multiple cut surfaces with more flavor. Roasted at 500 degrees, the eggplant was spotty charred, with one stir, in twenty minutes. Eggplant cooked this way offered great flavor and texture and held together well as the first layer of the dish.
Using the Capsule Kitchen
The next two layers were easy. I just visited the Capsule Kitchen and picked out Lentil-Walnut Mix, Garlicky Tomato Sauce, Velvety Alfredo, and Voila, Planetarian Moussaka was born. Yes, there are three components to make, but when you make Garlicky Tomato Sauce, you're left with nearly three quarts of sauce for another three meals for four—soups, chili, curry, Bolognese and more. And when you make Lentil Walnut Mix, there's another half batch to make sloppy Joes, stuffed peppers, or lettuce cups for another meal.
We're proud to present your new Planetarian party dish… with a serious jumpstart on four more meals later in the week. Now that's a good deal!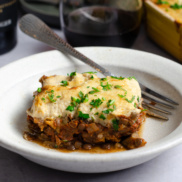 Planetarian Moussaka
Recipe Notes
When making Velvety Cauliflower Alfredo, don't forget to add only 1 cup of coconut milk and not the full can. If you can't find za'atar, substitute 1 1/2 teaspoons each: dried thyme and sesame seeds
Ingredients
1/2

recipe (4-4 1/2 cups)

Lentil-Walnut Mix

2

cups

Garlicky Tomato Sauce,

or good-quality, store-bought Marinara

1

recipe

Velvety Cauliflower Alfredo made with only 1 cup

(not 1 can) coconut milk

2

medium (about 1 lb each)

eggplants,

cut into medium dice

5

tablespoons

olive oil,

divided

Salt and ground black pepper

1

tablespoon

each: za'atar and ground fennel,

or chopped fennel seeds

1

large

onion,

cut into small dice

2

teaspoon

cinnamon

1/2

teaspoon

cloves

2/3

cup

dark raisins

1/2

cup

grated Pecorino-Romano cheese or vegan Parmesan
Instructions
Make a batch of Lentil-Walnut Mix reserving remaining half for another meal. (See text above for ideas. (Can be made and refrigerated several days in advance.)

Make the garlicky version of A Vat of Simple Tomato Sauce, reserving the remaining scant three quarts for another use (See text above for ideas. Can be made and refrigerated or frozen several days in advance.)

Adjust oven rack to lowest position and heat oven to 500 degrees. Spread eggplant on a large (18- by 12-inch) rimmed baking sheet sprayed with vegetable cooking spray; drizzle with 1/4 cup of the olive oil, sprinkle with salt and pepper and fennel and za'atar; toss to coat. Roast eggplant until spotty brown, about 15 minutes. Remove from oven and stir. Return to oven and continue to roast until even more spotty brown, about 5 minutes longer. Remove from oven and let cool. Reduce oven temperature to 400 degrees

Meanwhile, heat remaining 1 tablespoon of olive oil in a large skillet. Add onions; sauté until tender, stirring in cinnamon and cloves the last minute or so, about 5 minutes total. Stir in Garlicky Tomato Sauce and raisins; cook to heat through and blend flavors, just a few minutes. Stir in Lentil-Walnut Mix and cook to heat through again, just a few minutes longer.

To assemble, press eggplant lightly into a greased 13- by 9-inch pan, spread lentil-walnut mixture over eggplant, spread Velvety Cauliflower Alfredo over the lentil-walnut mixture. Top with Pecorino or vegan Parm and bake until beautifully golden brown, about 30 minutes. Remove from oven and cool slightly, 5 to 10 minutes. Serve.