If asked to choose between Falafel Wraps (Middle Eastern and Gyros-Style)and this Grand Falafel Salad, we here at Planetarian Life would have a hard time choosing. This salad is just that freakin' good!
It makes sense that we would love Grand Falafel Salad so much, because if you serve this salad with pita bread, you experience all the same appealing ingredients, all the crispness and crunch, and all bold flavors of the wrap without the awkwardness and messiness of eating it.
If you've already made Falafel—Baked or Fried, one of our Capsule Kitchen bases, you're well on your way to enjoying Grand Falafel Salad.
The Tahini Dressing
Making Tahini Dressing is as easy to make as dressing a salad with oil and vinegar. Simply whisk together equal parts—half cup each—water and tahini until it's more or less smooth. Then whisk in a couple of tablespoons of lemon juice and watch as this dressing transforms into a creamy, silky-smooth dressing. Add a pinch of salt and you're ready to dress this salad.
Assembling Falafel Salad
With falafel patties made and Tahini dressing whisked, the rest is just assembling a beautiful salad. We chose a mix of iceberg and massaged kale for color and textural contrast, but feel free to use whatever sturdy lettuce you have on hand. We like the sweet and sour crunch of Pickled Pink Onions, a Capsule Kitchen Essential, but if you don't have them, thinly sliced red onions will work just fine.
Colorful vegetables—red cherry tomatoes, green cucumbers, and yellow or orange bell peppers—add variety and crunch. Briny Kalamata olives and sharp feta—dairy or vegan—bring this salad to life.
You can toss this salad before serving it, but as you can see from the photo, it makes a stunning presentation. Unless there's a good reason, arrange all the ingredients on a large shallow bowl or rimmed platter and take it to the table, dressing it only after everyone has a chance to ooh and ahh. If you're looking to make Planetarian Life converts, this dish has got it all—good looks, color, texture, flavor.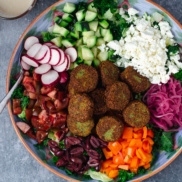 Grand Falafel Salad
Recipe Notes
The Pickled Pink Onions are especially delicious in this salad, but if you don't have them or have time to make them, sub in half a thinly sliced red onion.
Instructions
Bake or pan-fry falafel, and if not done already, make Tahini Dressing, massage the kale, and make Pickled Pink Onions (see note above).

Place the mix of Iceberg and massaged kale in a wide bowl or large deep platter. Attractively arrange the onions, bell pepper, tomatoes, cucumbers, feta, olives, and falafel in segregated sections. Drizzle with dressing; toss to coat.