Sheet pan dinners are popular because they're a super easy, relatively hands-off way to get dinner on the table. Most people prefer sheet pan dinners that have fish, poultry, or meat that cooks in the same amount of time as the sides. The challenge with plant-rich sheet-pan cooking is you don't have that piece of fish, chicken part, or cut of meat to anchor the meal. But, we've done some research and testing to come up with some very tasty options. Our Sheet Pan "Meatballs" with Cabbage and Apples leaves nothing to be desired and is every bit as easy and hands-off as any sheet pan dinner.
Our sheet pan dinners are not formulaic, but here's what they do have in common. First, it's all about getting the dinner in and out of the oven as quickly as possible. So, the roasting temperature is a super-charged 500-degree oven. At this temperature, you can cook much of the meal in about twenty minutes. Some ingredients like green vegetables will cook in about ten minutes. Others—like potatoes and onions—take about ten minutes longer to caramelize and brown.
Sheet Pan "Meatballs" with Cabbage and Apples
For this sheet pan meal, we roast cabbage, apples, onions, and potatoes for a full thirty minutes. When there are ten minutes left, add in the plant-based meatballs.
We prefer the texture of the low-starch boiling-style potatoes in this dish. You can use red or yellow ones. If they're big, cut them into large chunks; medium size, quarter them; if they're small, halve them. And if they're the size of a large marble, just oil, salt, and pepper them and toss them on the sheet pan.
Plant sausage is a natural with roasted cabbage, potatoes, apples, and onions. But, we feel "sausage" is best sautéed in a skillet as instructed on the packaging. If you prefer sausages to meatballs, simply roast the vegetables and separately sauté the sausages in a skillet.
Serve it Up!
Serve these plant "meatballs" that have been roasted atop a bed of chunky cabbage, potatoes, onions, and apples for a simple celebratory fall dinner. Caraway seeds, thyme, and a mix of cider and balsamic vinegar brings this dish alive.
Want more? Try our other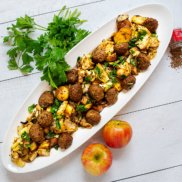 Sheet Pan "Meatballs" with Cabbage and Apples
Recipe Notes
Ingredients
1

pound

each: cubed cabbage, firm apples, and halved baby potatoes

1

large

onion,

cut into large dice

6

tablespoons

olive oil,

divided

Salt and ground black pepper

3

tablespoons

each: apple cider and balsamic vinegars

1

tablespoon

each: caraway seeds and dried thyme leaves

1

teaspoons

garlic powder

1

package (14 oz)

plant-based meatballs
Instructions
In a large bowl, toss cabbage, apples, potatoes, and onions with 3 tablespoons of oil and a generous sprinkling of salt and pepper. Mix remaining 3 tablespoons of olive oil with vinegars, caraway, thyme, and garlic powder. Drizzle a generous 3/4 of the seasoning over the cabbage mixture and toss to coat again. Turn onto a large, rimmed baking sheet and shake pan to distribute evenly. Roast until vegetables are tender and starting to brown, about 20 minutes. Remove pan from oven.