Strawberry shortcake is the quintessential spring dessert. But with a stick of butter and a big glug of buttermilk in the biscuits, and a generous plop of whipped cream on top, this dessert is usually very dairy-rich. As a cookbook author and food writer, I had certainly developed great conventional strawberry shortcake recipes over the years. But was it possible to make an equally satisfying dairy-free version for Planetarian Life?
Making Dairy-Free Strawberry Shortcake
I started with the biscuit. My old dairy-based recipes call for freezing a stick of butter, and then grating that super-cold butter on the large holes of a box grater into the dry ingredients. I then instruct to use the fingertips to further incorporate that cold grated butter into the dry ingredients. I've used Earth Balance butter sticks with great success in cakes and cookies but had never tried them with biscuits. Would they perform as well as dairy butter in this style of baked good? I'm pleased to report that the plant-based butter stick worked equally well.
Dairy-Free Buttermilk & Whipped Cream?
Creating a plant-based buttermilk might have stumped me. But I had already developed one for our Cauliflower "Wings" and Herbaceous Ranch Dressing. The familiar cider vinegar, nutritional yeast, and oat milk trio gave the biscuit the same moist, pleasant tang as classic buttermilk.
As for the strawberries, I like the way a mix of crushed and sliced hangs together. So I went with half lightly crushed, the other half sliced. I tried coconut sugar to sweeten the berries but didn't like the way this dark brown sugar stained the beautiful bright red berries. I opted for white sugar instead.
After discovering canned coconut cream, lightly sweetened with confectioner's sugar and vanilla, I may never go back to dairy whipped cream again. Our Planetarian version is just that good.
Freeze Your Extra Biscuits
The biscuit recipe serves eight, and so we've written the recipe to serve that number. If you don't need eight servings, bake up a full batch of biscuits—they freeze well and are delicious split and toasted for breakfast or teatime—but feel free to adjust the berries and cream portion of the recipe to work for the number you're serving.
I love this Planetarian Strawberry Shortcake, my grandkids love it, and so do the Planetarian testers, so give it a try!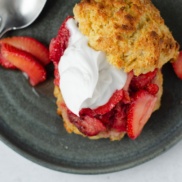 Planetarian Strawberry Shortcake
Recipe Notes
Even if you don't want to make eight Planetarian Strawberry Shortcakes, you should make and bake the full batch of biscuits. We've purposely made them savory, so you can freeze those you don't use and enjoy them later as an accompaniment to soups or split - buttered, toasted and served with jam or honey.
Ingredients
2

cups

all-purpose flour

2

teaspoons

baking powder

1/2

teaspoon

each: baking soda and fine salt

8

tablespoons (1 stick)

frozen plant butter

3/4

cup

plant milk,

such as oat

1

tablespoon

cider vinegar

2

teaspoons

nutritional yeast

2

pounds (1 large container)

strawberries,

hulled and rinsed

6

tablespoons

sugar

1

recipe

Planetarian Whipped Cream
Instructions
Adjust oven rack to lower-middle position; heat oven to 425 degrees. Mix flour, baking powder, baking soda, and salt in a medium bowl. Grate frozen butter on the coarse holes of a box grater into dry ingredients; toss to coat and using finger tips, lightly massage butter into flour mixture.

Meanwhile, mix oat milk, vinegar, and nutritional yeast and pour into flour mixture. Toss with a fork to form large clumps. Lightly press clumps with your hand into a rough ball.

Break dough into 8 rough rounds and place dough balls on a small baking pan; bake until golden brown, 12 to 14 minutes. Cool 5 minutes.

Meanwhile, using a potato masher or large fork, roughly crush half the berries; slice the remaining berries and mix the two, along with the sugar, in a bowl.

Make Planetarian Whipped Cream.

Split each cake. Spoon a portion of berries over each cake bottom; top with a dollop of whipped cream. Cap with biscuit top and serve immediately.