When two of our neighbors delivered several arm-sized zucchinis last week, we knew Roasted Summer Vegetables—aka ratatouille—was on the menu. We love making big sheet pans of grilled or roasted summer vegetables to have on hand throughout the week. These rich, intensely flavored little treasures speed up dinner prep when you're pressed for time.
In the Planetarian Capsule Kitchen, Roasted Summer Vegetables are more than just a side dish. They're a simple base for endless numbers of meals. Toss them with pasta, use them to make quick soups or bulk up hearty bean, grain, and greens salads. Drizzle them with vinaigrette for a first-course salad. Add olives and a few Provencal flavorings and serve it over a bed of couscous. One of our favorite (and simplest!) ways to enjoy roasted summer vegetables is over toasted or grilled European-style bread for a satisfying lunch. We've been known to enjoy these vegetable toasts for breakfast as well.
Make A Double Batch of Roasted Vegetables
Since you can make such different meals from the same pan of roasted summer vegetables, and since roasting them is so simple (plus the oven's already preheated!), we recommend roasting a couple of pans at the same time, depending on the number of people you're feeding for the week.
Turn Up the Heat
Because they cook quickly and brown better, roast summer vegetables at a high temperature—for me, that's a blistering 500 degrees. Since the tomatoes don't need as much time to roast (and their juiciness prevents the other vegetables from coloring), give the eggplant, zucchini, peppers, onions, and garlic a twenty-minute head start. Once they start to brown, stir in the tomatoes. In just fifteen more minutes, you'll have a couple of pans of wonderful ratatouille ready for action.
So next time your neighbor drops off  a basket of zucchini at your or you bought way too much at the farmers market, don't panic. Grab a chef's knife, pull out a couple of rimmed baking sheets, and turn on the oven knowing that dinner is sorted for at least a few nights this week.
These roasted veggies have infinite possibilities! Our favorites are Rotini with Roasted Summer Vegetables, Chickpea & Roasted Summer Vegetable Stew, and Ratatouille Toasts.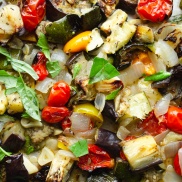 How To: Roasted Summer Vegetables
Recipe Notes
If you're want to save time, buy already peeled garlic which is usually available in most well-stocked grocery stores.
Ingredients
1

medium

eggplant,

trimmed and cut and cut into 1-inch dice (a heaping 2 cups)

1

large

sweet onion,

peeled and cut into 1-inch dice

1

yellow bell pepper,

stemmed, seeded, and cut into 1-inch dice

2

medium zucchini,

trimmed and cut into one-inch dice (a heaping 2 cups)

1

head (about 6 cloves each)

garlic,

peeled and sliced thick

2

tablespoons

olive oil

2

tablespoons

minced fresh rosemary or thyme or 2 teaspoons dried thyme leaves

Salt and ground black pepper

2

cups (1 pint)

cherry tomatoes
Instructions
Adjust oven rack to lowest position and heat oven to 500 degrees. Mix eggplant, onion, peppers, zucchini, and garlic on a large (18- by 12-inch) rimmed baking sheet. Add olive oil, herb of choice, and a sprinkling of salt and pepper; toss gently to coat. Roast until vegetables start to brown, about 20 minutes. Remove pan from oven, stir in cherry tomatoes, and then return to the oven to roast until tomatoes start to release their juices, about 15 minutes longer. Serve hot, warm, or at room temperature, or continue with one of the recipes linked in the post. (Can be covered and refrigerated up to 5 days.)