The name—The Simplest, Best Hummus—says it all. We wanted to develop a recipe that called for canned chickpeas. Although, you can certainly use ones that have been soaked and cooked. Just know that a pound of dry chickpeas, soaked and cooked, yields six cups, which means you'll use half in this recipe (three cups). You can use the remaining half to toss into soups and stews and salads. The other thing you should know is that the average fifteen- to sixteen-ounce can of beans usually yields around one and a half cups. So, the recipe is nice and tidy—you'll need either two cans of chickpeas or a half pound of dry, soaked and cooked.
We also wanted a recipe that called for readily available ingredients. (OK, Aleppo pepper is not exactly mainstream, but you can sub in cayenne or hot red pepper flakes.) Finally, we wanted a recipe that came together super quick. Because everyone's pace in the kitchen is different, we don't want to promise you can make this hummus in five minutes, but there's no reason you couldn't do it in under ten.
Hummus so Simple, You'll Never Get Store-Bought Again
Store-bought hummus is a little like a boxed cake. Once you realize how simple it is to make  and how great it tastes, you'll likely start making it from scratch. It takes absolutely no skill to make homemade hummus. Just give three garlic cloves a head start in the food processor, then add the remaining ingredients—drained chickpeas, lemon juice, tahini, olive oil, ground cumin and some form of heat, whether it's Aleppo, cayenne, or pepper flakes—and process until smooth. At that point, you'll want to taste the hummus and check its texture. You'll probably need salt, you might want a little more lemon juice or heat, and you may find that you want a slightly looser consistency. If so, adjust the seasonings, add a tablespoon or so of water, and process again.
Your hummus is now ready to use. You can doll it up by drizzling it with a little olive oil, sprinkling it with smoked paprika, and serving it with crudité, olives, and warm pita as a light simple lunch or supper or you can pack it up and enjoy it as an on-the-fly meal. Spread it on a sandwich or transform salad into a main course with a side of hummus and pita.
It's always nice to have a tub of hummus in the fridge.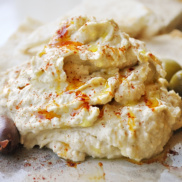 The Simplest, Best Hummus
Recipe Notes
*If you can't find Aleppo pepper, sub in a big pinch of hot red pepper flakes.
Ingredients
3

cloves

garlic

2

cans (3 cups)

chickpeas,

drained and rinsed

6

tablespoons

lemon juice from 2 to 3 lemons

3

tablespoons

each: tahini and olive oil

1

teaspoon

each: cumin, smoked paprika, and Aleppo pepper*

Salt
Instructions
Mince garlic in a food processor. Add remaining ingredients, including a light sprinkling of salt. Process until more or less smooth, a minute or so. Taste and adjust seasonings, including additional salt, lemon juice, and a tablespoon or so of water to thin the consistency. Continue to process to incorporate additional ingredients. Serve. (Can be refrigerated in a covered container for at least a week.)