---
This is a Variation on a Root Formula, a simplified recipe that shows which ingredients
are core and which can be changed to create different flavor combinations or use what you
have on hand. See our other variations at the bottom of the Root Formula page.
---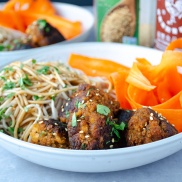 Sriracha-Lemongrass "Meatballs"
Recipe Notes
Serve these flavorful balls with noodles or rice (good for soaking up all of that flavorful sauce!) and a simple vegetable.
We like how Aleppo pepper offers flavor and subtle heat, but if you don't have it, simply substitute 1/4 teaspoon hot red pepper flakes. And if you're serving these balls to young children, you may want to leave out the pepper altogether.
We like the convenience of squeeze tubes of lemongrass you find in the produce section, but if you can't find it, we've found that an equal amount of finely grated ginger works as well.
Ingredients
1

tablespoon

chia seeds mixed with 3 tablespoons water

1

pound

firm tofu,

drained, patted dry, & crumbled (no need to weight it)

1

cup

fine dry breadcrumbs

2

tablespoons

tomato paste

1

teaspoon

each: fine salt, Aleppo pepper, and fine granulated garlic or garlic powder

1/4

cup

chopped fresh cilantro

1/4

cup

sriracha

2

tablespoons

each: lemon grass and sesame seeds

2

tablespoons

flavorless oil,

such as grapeseed or canola, plus a little extra
Sauce
1/4

cup

soy sauce

2

tablespoons

each: agave, sriracha, and ketchup

1

teaspoon

fine granulated garlic or garlic powder
Instructions
For the "meatballs:" Adjust oven rack to lower-middle position and heat oven to 350 degrees. Start by whisking chia seeds and water so they have time to thicken up before you add them. Measure the remaining "meatball"ingredients, including cilantro, sriracha, lemongrass, and sesame seeds, in a large bowl; whisk thickened chia mixture and add to the bowl. Using hands, mix thoroughly to combine. Divide mixture into approximately twenty-four2-tablespoon portions, rolling each into a ball.

Meanwhile, bring 2 tablespoons of the oil in a large (12-inch) oven-proof skillet over medium-high heat. When whisps of smoke start to rise from the pan, reduce heat to medium, add balls and cook until well browned on one side, about 3 minutes. Turn the balls over and continue to cook on the remaining side until well browned, about 3 minutes longer. Transfer skillet to the oven and bake until balls are firm, about 25 minutes.

For the sauce: Mix all ingredients and 1/2 cup water in a medium saucepan. Bring to a simmer; continue to simmer to blend flavors and slightly reduced. Spoon over "meatballs" as well as accompanying rice or noodles and vegetables.