---
This is a Variation on the Bean Burgers Root Formula, a simplified recipe that shows which ingredients
are core and which can be changed to create different flavor combinations or use what you
have on hand. See our other variations at the bottom of the Root Formula page.
---
Whenever I order take-out, I always regret it. I want something quick and easy, but in our family just looking at the menu takes 15 minutes. If there's a debate over whether we've ordered too much, add another five minutes to that time. Then we wait…and wait and wait. The food finally arrives in five plastic containers. We pry them open to reveal tepid, overcooked food that was packaged 40 minutes ago and steamed to oblivion en route. The experience is unsatisfying, the taste isn't memorable, and afterwards my stomach is unhappy. We all need the convenience of quick and easy take-out, but what's supposed to feel like a treat often feels like a disappointment. So, I stopped ordering and started figuring out what would taste like Friday-night-food and meet my time constraints in a more satisfying way. Enter: bean burgers.
More than just black beans
I make some variation of these burgers once a week because they come together quicker than take-out. Plus, I always have the simple ingredients in the pantry. Judging by restaurant menus and what's at the grocery store, you'd think the only bean that could make a burger is the black bean (and always paired with Mexican-style flavorings) but other beans, like pinto and white beans, open us up to many other flavor profiles. We wanted to mimic the "fun food" feel of take-out with "feel good" food made at home. Black beans and black-eyed beans would also work in this burger formula, so feel free to create your own version. The key is to use small beans, which allow the burger to hang together best. Avoid varieties like cannellini and chickpeas.
In addition to this "Pizza" Bean Burger we also have BBQ Bean Burger and Gyro Bean Burger Variations.
Getting bean burgers just right
The bean burger mixture shouldn't be too wet or dry. If you feel like the burgers aren't hanging together as they should, add a tablespoon of liquid if it's too dry or a tablespoon of breadcrumbs if too wet. Ultimately, you want a malleable, putty consistency that shapes nicely into a burger. You got this!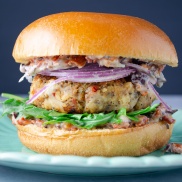 Really Simple "Pizza" Bean Burgers
Recipe Notes
To make Sun-Dried Tomato-Kalamata Mayo, mix of 6 tablespoons each: mayonnaise, minced sun-dried tomatoes, and minced kalamata olives.
Ingredients
2

tablespoons

chia seeds

2

cans (15-16 oz each)

small, white beans,

drained, liquid reserved, 1/2 left whole, 1/2 fork-mashed

1

cup

dry breadcrumbs

1/4

cup

minced sun-dried tomatoes

1 1/2

teaspoons

dried basil

3/4

teaspoon

dried oregano

1

teaspoon

coarsely ground pepper

1/2

teaspoon

garlic powder

1/4

teaspoon

hot red pepper flakes,

optional

Sun-Dried Tomato-Kalamata Mayo (see note above), Arugula, and thinly sliced red onion

6

hamburger buns
Instructions
Stir chia seeds into 2/3 cup of the reserved bean liquid in a small bowl; let sit for a few minutes until chia seeds start to thicken the liquid.

Meanwhile, place beans, breadcrumbs, sun-dried tomatoes, basil, oregano, pepper, garlic, and pepper flakes in a medium bowl. Stir in chia mixture with a fork until mixture holds together. Taste mixture and adjust seasonings, including salt, if necessary. Divide mixture into 6 equal portions and flatten into 4-inch patties. Following Stovetop or Grill Method, cook burgers. While burgers cook, make Sun-Dried Tomato-Kalamata Mayo. Spread buns with Sun-Dried Tomato-Kalamata Mayo, top with burgers, arugula, and red onions. Serve.

Stovetop Method: Heat 2 tablespoons olive or canola oil in a large (12-inch) skillet over medium heat. Add patties and cook, turning only once, until a crisp brown crust forms on both sides, 8 to 10 minutes total.

Grill Method: Heat all burners of a gas grill on high. Lightly brush burger tops with oil. Place burgers, oiled side down on hot rack, cover and grill until spotty brown, about 3 minutes. Lightly brush tops with oil and turn. Cover and continue to grill until burgers are spotty brown on remaining side, about 3 minutes longer.