Nearly nine years ago, Maggy, her sister Sharon (my other daughter!), and I hosted a conference of nearly one hundred food professionals. Oddly, there were no dairy-free attendees, but we had several gluten-free and vegetarians. We wanted a hearty breakfast dish that would satisfy everyone. Thus, the birth of the Chilaquiles Casserole.
Since bread is the featured ingredient in strata, that crowd-pleasing breakfast casserole was not an option. Chilaquiles, a pan of salsa-stewed corn tortillas and topped with an egg, was a dish we frequently made. Could we figure out a way to transform this stovetop dish that only served four into one that could easily serve twenty-five times that number? After several tests, we figured it out.
Before tossing the corn chips with the salsa, we wanted to deepen the salsa's flavor. By adding a little water and simmering it a few minutes back to its original consistency, we accomplished our goal.
We also didn't want to worry about cooking one hundred eggs to top this dish. Instead, we bulked up the casserole with drained black beans and frozen corn (a good pre-Planetarian Life move!)  Scallions added great flavor and color. Using canned diced green chiles saved us from having to dice and sauté bell peppers.
Cheese is a must. It's the culinary glue that enriches and binds together all the ingredients, but you can always sub in plant-based cheddar to make it dairy-free.
We layered this classic stovetop breakfast dish in 13- by 9-inch pans and baked them. As they emerged from the oven and we had a chance to taste them, we thought they were irresistibly delicious, but what would these one hundred food professionals think?
The Moment of Truth
We served the casserole to the group and waited. Then we got word that one of the speakers said it was the best thing she had eaten in a long time. She further clarified that it wasn't just the best breakfast dish, but the best thing she had eaten in a long time. We took in deep breaths, tilted our heads upward, and let out a sigh. Nine years later, and we're still making this casserole. We figured it was about time we shared it with you!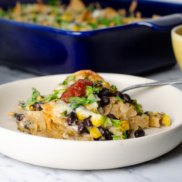 Chilaquiles Casserole
Recipe Notes
Serve with guacamole, Greek yogurt, hot sauce and additional salsa.
Ingredients
1

quart

tomato salsa

1

bag (11 oz)

tortilla chips

1

can (15-16 oz)

black beans,

drained and rinsed

1

cup

frozen corn,

thawed

3/4

cup

thinly sliced scallions

1

can (4 oz)

diced green chiles,

diced

A heaping 2

cups (7 oz)

shredded dairy or plant sharp cheddar or pepper Jack cheese
Instructions
Adjust oven rack to lower-middle position and heat oven to 350 degrees.

Bring salsa and 1 cup of water to simmer in a large skillet over medium-high heat. Cook to blend flavors and reduce to original 1 quart measurement, 8 to 10 minutes.

Layer remaining ingredients evenly in a 9- by 13-inch baking dish in the following order: 

Two layers each: 1/2 of the chips and 1/2 pico de gallo sauce, followed by 1/2 cup of the scallions and all of the beans, corn, chiles, and cheese. Sprinkle with remaining scallions; bake until warmed through and golden brown, 20 to 30 minutes. Serve immediately.