Shakshuka is quickly becoming a morning food classic. You almost can't go out for breakfast or brunch without seeing it on the menu. Using protein-rich silken tofu in place of  of eggs, we've created a plant-based version. It almost perfectly mimics the egg's soft tomato-stewed texture.
If you've got a quart of tomato sauce on hand, this meal is super easy to pull off. Simply cut an onion and half a bell pepper—yellow offers the best color—and sauté them until tender. Stir in a little smoked paprika, cumin, and oregano along with the tomato sauce and simmer just long enough for the flavors to start blending, five minutes or so. 
Meanwhile, open up a pound container of silken tofu, carefully pat it dry, and break break it into approximate egg-size pieces. If it doesn't break exactly as planned, no worries! Place the tofu chunks onto a plate, lightly drizzle them with oil, and sprinkle them with the remaining smoked paprika, cumin, oregano and a little salt and pepper. 
Slip the pieces of silken tofu into the spicy tomato stew and continue to simmer until flavors have fully blended and tofu has heated through, about five minutes or so longer. Now it's ready to serve with Effortless Homemade Bread. If you're up for it, we highly recommend serving this spicy tofu stew over over grits (aka polenta). If you decide to do it, the Shakshuka will stretch to serve six to eight. 
Serving it Over Polenta 
For four large servings of grits or polenta—enough for at least six Shakshuka-topped servings—bring four cups of water and 1 teaspoon of salt to boil over medium-high heat. Whisk in one cup of quick-cooking grits or polenta, reduce heat to medium-low and continue to simmer until sputtery thick. For added flavor and richness, stir in 2 tablespoons each of nutritional yeast and  plant or dairy butter. Spoon into each of six bowls and ladle a portion of Shakshuka over the grits. Sprinkle with a little more chopped fresh cilantro and serve immediately.
If you're looking for a new brunch dish, give Shakshuka a try! We're guessing it might just become a regular any-time-of-day dish for you.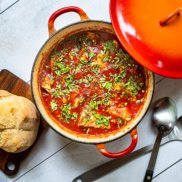 Planetarian Shakshuka
Recipe Notes
Ingredients
1

pound

silken tofu

1

tablespoon

olive oil,

plus a little extra for drizzling

Salt and ground black pepper

1

tablespoon

smoked paprika,

divided

2

teaspoons

each: ground cumin and dried oregano,

divided

1

medium

onion,

cut into small dice

1/2

yellow bell pepper,

cut into small dice

1

quart

of sauce from Vat of Tomato Sauce
Instructions
Carefully break tofu into several chunks and lay them on a plate. Drizzle lightly with oil and sprinkle with 1 teaspoon each of the smoked paprika, cumin, and oregano and little salt and pepper; set aside.

Meanwhile, heat remaining 1 tablespoon of oil in a small Dutch oven over medium-high heat. Add peppers and onions; sauté until tender, about 5 minutes. Stir in remaining 2 teaspoons of smoked paprika, and teaspoon each of cumin, and oregano, followed by the tomato sauce; bring to a simmer. Reduce heat to medium low and continue to simmer to blend flavors, about 5 minutes. Carefully slip pieces of tofu into the sauce; continue to simmer to heat through, another 5 minutes or so. Serve immediately.