Back in 2013, I wrote Cook Without a Book: Meatless Meals. One of the recipes I tackled in this book was French Onion Soup. Was it possible to get this classic to taste as good made with vegetable broth as it was with beef broth, its usual base?
Thanks to one step and three ingredients, it was, in fact, possible to make excellent vegetable broth-based French Onion Soup. Getting the onions good and caramelized was key to developing a rich broth. Golden brown is not good enough. The onions need to be impressively—borderline scary—dark.
Caramelizing the Onions
You can't rush caramelizing onions. Cook them too fast, and they'll burn and taste bitter. Cook them slow and low from start to finish, and it takes time most of us don't have. To shortcut the process a bit, start the onions off at relatively high heat to evaporate the moisture. As long as you stir them frequently, you should be able to cook the onions on medium-high for the first ten minutes. Once they start to turn golden, it's time to turn down the heat. Start at medium-low, stirring them regularly and scraping up the dark bits as they form and keeping your eye on them in between. If they start getting dark too quickly, take the heat down even lower.
Making the Broth
Sweet vermouth, a fortified wine, underscores the sweetness of the caramelized onions, while the rich, salty red miso, or fermented soybean paste, contributes a deep savoriness. Unlike yellow and white miso, red miso is fermented longer—up to three years compared with eighteen months—which intensifies its flavors. Don't add the miso until the end. The boiling soup will kill the probiotics, diminishing the nutritional benefits. Just drop in the miso in little dollops, along with the balsamic vinegar (the third flavor enhancer in this soup), and whisk until fully incorporated. Turn off the burner and let it stand, covered, until you're ready to ladle it into bowls.
Making French Onion Soup Simple Enough for a Weeknight
We've also simplified the recipe by simply making the cheese toast ahead and simply floating them on the soup, which eliminates the whole awkward broiling process and handling of hot bowls. We've also dramatically reduced the cheese. Not only does this save you from stringy molten cheese on and around your face, it's also Planetarian. Depending on your preferences, use either plant-based or dairy cheese here.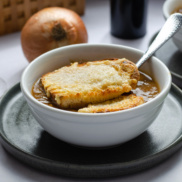 Planetarian French Onion Soup
Recipe Notes
Its dark rich color and caramelized onion flavor makes Kitchen Basics vegetable broth ideal for this soup. If you can't find it, no worries. The miso, sweet vermouth, and balsamic vinegar will intensify whatever broth you use.
Ingredients
1/4

cup

olive oil

4

large

sweet onions (about 2 1/2 pounds), halved and sliced thin

1 1/2

quart

good quality vegetable broth,

preferably Kitchen Basics, if you can find it

2

tablespoons

all-purpose flour

1/4

cup

each: sweet vermouth and red miso

1

tablespoon

balsamic vinegar

Salt and ground black pepper

1

loaf

European-style crusty bread,

cut into enough 1/2-thick slices to cover 6 soup bowls

6

thin slices

cheese,

about 4 ounces, such as plant-based sharp cheddar or smoked Provolone or dairy-based Swiss or Provolone cheese

6

tablespoons

grated plant-based or dairy Parmesan cheese
Instructions
Heat oil in a soup kettle over medium-high heat. Add onions: cook, stirring often, until dramatically reduced and light caramel colored, about 10 minutes. Reduce heat to medium-low; continue to cook onions, stirring frequently and scraping up any dark bits, until rich caramel color, 15 to 20 minutes longer.

To speed up cooking time, microwave broth in a 2-quart Pyrex measuring cup until piping hot, about 5 minutes.

When onions are fully cooked, stir in flour, then vermouth, and finally the hot broth. Bring to a boil, reduce heat to low and then simmer, partially covered, to blend flavors, about 5 minutes. Turn off heat, whisk in miso and balsamic vinegar. Taste and adjust seasonings, including salt and pepper to taste. Cover and keep warm.

Meanwhile, adjust oven to upper-middle position and turn on broiler. Place bread on a rimmed baking sheet and broil, turning once, until golden brown on both sides. Remove from oven; top toasts with cheese, breaking cheese slices into pieces to fit; sprinkle with Parmesan. Return to the broiler and toast until cheese melts, just a minute or so.

Ladle hot soup into bowls; top with cheese toast and serve immediately.