Right around the new year, Maggy emailed me, with a recipe link and said, "Laura and Gil want us to Planetarianize this recipe." As many of you know, Laura and Gill write the One Simple Swap column in our weekly newsletter. From dryer balls to electric mowers, they teach us how to make better Planetarian choices. I always love a good recipe challenge, and I especially love a recipe challenge that comes from dear friends like Laura and Gil. Their recipe was for a rich, dairy-heavy Hungarian mushroom soup that they wanted us to make more plant-based. I got to work.
My first discovery was at the grocery store's mushroom section. For years I've always bought packaged mushrooms, ignoring the bin of loose portabellas just above them. By buying big, loose mushrooms, I got to pick the ones I wanted, I avoided all those mushroom containers with their plastic film covering, and I paid less ($3.99 per pound vs $5.00 for two 8-ounce containers). Since the mushrooms were bigger, there was less chopping.  And when I made the soup for the first time, I also discovered that I preferred the substantial texture of the bigger, meatier portabellas.
Besides the obvious switches—subbing oat cream for milk, offering plant-based sour cream as an option— I also doubled the recipe. It was just too delicious to make a scant four servings when you could double it for a generous six.
Doubling the soup meant inefficiently batch sautéing a whopping two pounds of mushrooms in a large soup kettle or skillet. By switching to a heavy-duty roasting pan set over two burners, I doubled the surface area and cooked them all at once.
If you want impressively brown mushrooms, pour them in the hot roasting pan, set the timer for ten minutes, and walk away. Only when the timer dings do you salt and pepper them before giving them a big stir.
While the mushrooms cook, pull out a soup kettle and sauté the onion, adding thyme and mild, sweet (not smoked or hot) paprika. To thicken the soup, whisk in flour, then all the liquids—wine, broth, soy, and creamer—along with the mushrooms. Since the mushrooms are already cooked, you only need five minutes simmering time once it comes to the boil. To finish the soup, stir in a little sour cream to enrich it— plant- and dairy- based sour cream both work.  To finish the soup, sprinkle a small fistful of fresh dill and parsley, and to brighten it, a big squeeze of lemon. Whether you serve it as the start to fine dinner or with a crusty loaf for weeknight dinner, you'll always get rave reviews.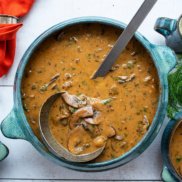 Hungarian Mushroom Soup
Recipe Notes
*Sautéing the mushrooms in a roasting pan set over two burners allows you to brown the mushrooms in one batch. If you can't or don't want to do that, simply sauté them in a large (12- inch) skillet in two batches *If you like, you can also use baby bella mushrooms, but we liked the meaty quality of the bigger mushrooms.
Ingredients
6

tablespoons

olive oil

2

pounds

portabella mushrooms,

stemmed, halved, caps and stems sliced*

Salt and ground black pepper

2

medium-large onions,

cut into medium dice

1

tablespoon

each: dried thyme leaves and paprika

6

tablespoons

flour

1

cup

dry white wine or dry vermouth

1

quart

(6 cups) mushroom or vegetable broth

1/4

cup

soy sauce

2

cups

oat creamer or creamy oat milk

1/2

cup

sour cream,

dairy or plant-based

1/4

cup

each: chopped fresh parsley and dill

1

lemon,

halved
Instructions
*Heat 4 tablespoons of oil over medium-high heat in a large roasting pan set over 2 burners. Add mushrooms and cook, without stirring, until mushrooms are impressively browned on one side, about 10 minutes. Season with a sprinkling of salt and pepper and give them a stir. Continue to cook until most of the moisture has evaporated, a couple of minutes longer; turn off heat.

Meanwhile heat remaining 2 tablespoons of oil in a large soup kettle. Add onions and cook until softened, about 5 minutes. Stir in thyme and paprika, followed by flour. Whisk in wine, broth, soy, creamer, and mushrooms; bring to a simmer, reduce heat to medium-low, and continue to simmer to blend flavors, about 5 minutes. Whisk in sour cream and fresh herbs. Taste and adjust seasonings, including salt, pepper, and lemon juice to taste.