Though I've written many pizza recipes, I've never had great luck baking homemade pizza dough in the oven. Short of lining your oven rack with unglazed pizza tiles or heating a pizza stone (or inverted cast-iron skillet), the process—baking them one at a time—is tedious and awkward. It's possible to grill great pizza, but not everyone has access to one and, even so, it's not a year-round option for most.
And yet, everyone loves pizza. Take-out usually arrives limp, oily, and cheese-blanketed. Pizza from the freezer case is never as good as from scratch. What to do?
After many years of thinking there was no practical way to make oven-baked pizza, I've finally developed what I consider an easy, efficient method.
Simple, Homemade Pizza Dough
It starts with the dough recipe below. If you've ever made Effortless Homemade Bread, you'll recognize the formula. This pizza crust is the same recipe, with the addition of 2 tablespoons of olive oil, which offers crispness to the crust.
The recipe instructions may look long, but once you've made either the homemade bread or the homemade pizza dough a few times, you won't need the recipe any longer. And you'll be able to make the dough in about 5 minutes.
There are two great things about this pizza dough. First, instead of rising in an oiled bowl, the dough rises directly on the pizza baking sheet, which means that once the dough is risen, you seamlessly move to stretching it into place. Secondly, you can make the dough in the morning and let it rise all day long. It'll be ready and waiting to stretch and bake for dinner.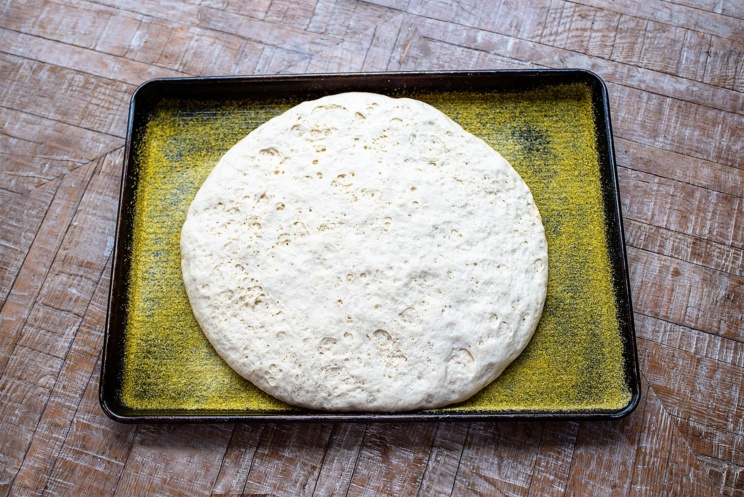 A final note… once you're ready to bake the crust, start by preheating the oven, but take time to stretch the dough before you start prepping your pizza toppings. It's nice to have a little time for the dough to rise before baking it.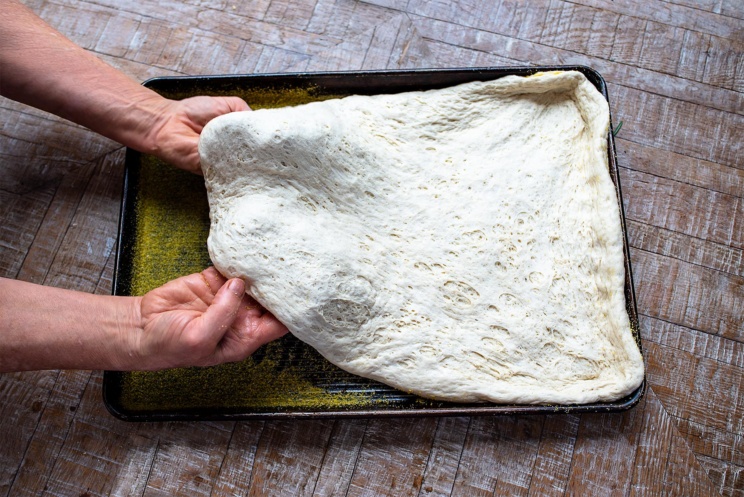 Once topped, there's enough pizza for six to eight people, so if you happen to have an extra few unexpected guests for dinner, no worries. And if not, we all know what to do with leftover pizza!
Toppings
Top with your favorite toppings or try one of our favorites: The Eggplant Parm Pizza, The Mushroom-Caramelized Onion Pizza, or The Greek Pizza.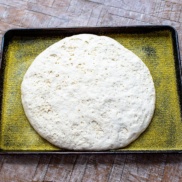 How To: Homemade Pizza Crust
Recipe Notes
Makes one extra-large 18- by 12-inch pizza crust
*If making a roasted vegetable pizza, make sure to add the vegetables to the preheating oven before baking the crust.
Ingredients
1/3

cup

warm water and 1 1/3 cup tap water

2

teaspoons

active dry yeast

2

tablespoons

olive oil

4

cups

bread flour or good-quality unbleached all-purpose flour,

like King Arthur

2

teaspoons

fine salt

Vegetable cooking spray or extra olive oil and cornmeal for the pan
Instructions
Measure 1/3 cup of warm water in a 2-cup liquid measuring cup. Whisk yeast into the water; let stand until dissolved and starts to bubble, a couple of minutes. Add remaining 1 1/3 cups of water for 1 2/3 cups total; add olive oil.

Pulse flour and salt in a large food processor. Pour liquid ingredients over the flour; process to form a rough, soft ball, adding a little water if dough is clay textured or a little flour if dough is soft and sticky. Continue to process to machine-knead dough until smooth, about 30 seconds longer.

Spray or oil an 18- by 12-inch rimmed baking sheet and dust with cornmeal to coat pan bottom. Turn dough onto a floured surface and knead a few seconds to form a smooth ball; place on prepared pan, cover with cook spray-coated plastic wrap, and let rise until dough doubles and then starts to collapse, a minimum of 4 hours and up to 8 hours.

When ready to bake, heat oven to 550 degrees*. Stretch relaxed dough up the sides of the rimmed baking sheet and with greased hands, press top of dough in place.

Bake in preheated oven until crust is golden brown, about 10 minutes. Remove from oven and continue with topping. (Crust can be cooled and frozen for a couple of months.)