For years, our go-to brunch for a crowd has been strata, a recipe we've made so many times we've pretty much got it memorized. But the dairy piece alone in our old recipe is a quart of half-and-half, a dozen eggs, and nearly a pound of cheese. As we shift towards being more Planetarian and cutting back on dairy, it was time to give our strata a makeover.
A Planetarian Strata
To get a sense of how others had bypassed dairy in their stratas, we checked out a few vegan recipes. While we admired the recipe developers' pluck and creativity, most worked harder and used more unusual ingredients than we would have to get around the eggs and cream. On the other hand, how was one supposed to moisten the bread without milk and bind the bread without cheese?
The Potato Layer
To avoid the whole bread-binding dilemma (and to make our GF family and friends happy), we made our strata potato-based. We knew hash brown casserole was popular, but we hadn't made one before. Many strata recipes start with frozen hash browns that you then toss with other breakfast-y ingredients and then baked. We wanted a dish with layers (stratas!), so we essentially make an oven-baked potato rosti as the first layer instead of mixing the bread in.
The Creamy Kale and Peppers Layers
While the potato layer cooked, we made flavorful creamy kale for the next layer. Then colorful sautéed bell peppers and onions for the layer after that, followed by a final layer of cheese. We use half the amount of cheese as our original strata recipe had. Finally, we returned the completed strata to the hot oven for a quick bake. In just twenty minutes the strata was heated through with a golden brown cheesy crust. This gluten-free, near dairy-free strata looked scrumptious and tasted special—a dish I'd be proud to serve to guests.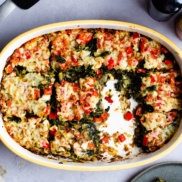 Hash Brown Strata
Recipe Notes
Ingredients
2

pounds

starchy potatoes,

such as Idaho, grated and squeezed dry

Salt and ground black pepper

1/4

cup

olive oil,

plus a little extra, divided

3

cloves

garlic, minced

Pinch

hot red pepper flakes

1

pound

frozen kale,

thawed and squeezed dry or 1/2 recipe Shallow Cooked Winter Greens

1

cup

regular canned coconut milk

1/4

cup

nutritional yeast

2

each: medium red bell pepper and onion,

each cut into medium dice

5

ounces

grated sharp cheddar,

vegan or dairy
Instructions
Adjust oven rack to lowest position and heat oven to 450 degrees. Coat a 13- by 9-inch baking pan with 2 tablespoons of oil and set in preheating oven. Meanwhile, season grated potatoes with 1 teaspoon of salt and several grinds of pepper; toss to coat. Remove pan from oven and spread potatoes over pan bottom, pressing to compact. Return to oven and bake until cooked through and golden, about 20 minutes.

Meanwhile, heat a light drizzling of oil, along with garlic and pepper flakes, in a small Dutch oven. When garlic starts to sizzle, add kale; stir to heat through. Add coconut milk; continue to stir to heat through again, lightly seasoning with salt and pepper; stir in nutritional yeast. Remove from heat.

While kale cooks, heat remaining 2 tablespoons of oil in a large skillet over medium-high heat. Add peppers and onions; sauté, seasoning lightly with salt and pepper, until softened, about 5 minutes.

To assemble, remove potatoes from oven. Spread kale evenly over the potatoes and then onions and peppers over the kale. Sprinkle with cheese. Continue to bake until cheese melts and starts to turn golden brown, about 20 minutes. Remove from oven, cool for a few minutes, cut, and serve.