---
This is a Root Formula, a simplified recipe that shows which ingredients are core and which can be changed to create different flavor combinations or use what you have on hand.
---
We all love a good stir-fry, but there's a reason Chinese take-out is popular. With all the vegetable prep, mincing relatively large quantities of garlic and ginger, making a sauce and cornstarch slurry, and cooking in batches, stir-fry is a pain to make at home. Over the years I've done my best to simplify the process. Still, there's no getting around the vegetables needing to be cooked in batches so they actually stir-fry rather than stew or steam. Was there an easier way?
Roast Instead of Stir-Fry
If you analyze the roasted vegetable recipes on the Planetarian Life website, you'll notice that we nearly always recommend a roasting temperature of 500 degrees. With that blasting heat, most vegetables are fully roasted and brown tinged in twenty minutes—thirty minutes max.
I started to wonder.  If I reduced the vegetable quantity and cooking time, might I get a stir-fry like vegetable in the oven? With a 12- by 18-inch surface—a full 216 inches— to spread the vegetables on, I decided to give it a shot.
I started the test using my old stir-fry formula, but rather than fire up a large skillet on top of the stove, I heated a large, rimmed baking sheet in a 500-degree oven. Instead of the veggies in and out of the skillet and flavorings added at different times, I simply tossed a couple pounds of vegetables and a large onion with all the flavorings—soy, sherry, garlic, ginger, the oil too—and dumped them onto the hot rimmed baking sheet, which sizzled as they hit the surface.
Adjusting the Recipe
My first attempt, I set the timer for ten minutes, then let it go a couple of minutes longer. By the time I added the flavoring sauce and thickener and returned it to the oven another five minutes, the vegetables were overcooked.
I made three corrections. To achieve the crisp-tender vegetables I wanted, I reduced the cooking time to seven minutes, and to get the vegetables to color a bit, I added an imperceptible one tablespoon of honey to the initial flavorings. Finally, this all-veggie stir-fry needed a little a little more substance. There's always tofu, but I knew that would add another big prep step to the recipe. Instead, I completed the protein by adding legumes—greens or edamame, your choice—when adding the flavoring sauce and thickener. With a mound of rice on the side, the protein is complete.
Is Sheet-Pan Stir-Fry superior to the traditional stovetop method? For me, it's a little like my Effortless Homemade Bread. Is it as beautiful and complex as the fancy European-style seeded loaves you find at upscale bakeries? No, but it's so easy that I make it several times a week and enjoy it nearly every day. Up until now, I'd find excuses not to make stir-fry. Going forward, Sheet-Pan Stir-Fry will become part of my regular repertoire. There's your answer!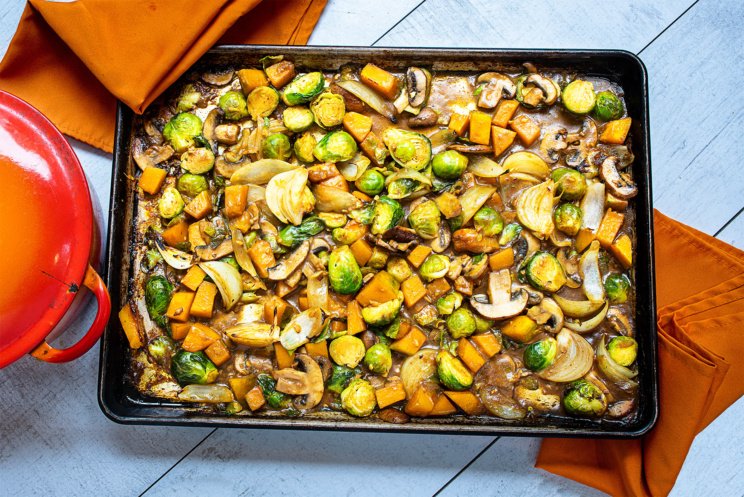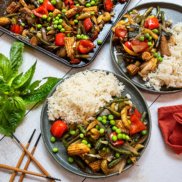 Sheet-Pan Stir-Fry (A Root Formula)
Recipe Notes
Sweet sherry is ideal here, but if you don't have it, sub in sweet vermouth, and if you don't use honey, sub in agave or maple syrup. We find grating the garlic and ginger easier than mincing. We use a microplane, but the fine side of a box grater works well too. Serve with Perfect Pot of Rice.
Ingredients
2

pounds

Vegetables,

your choice (see below)

1

large

onion,

halved from pole to pole; each half cut into 6 wedges

1

tablespoon

each: soy sauce,

sweet sherry,* honey, finely grated garlic, finely grated gingerroot

1/4

cup

peanut or vegetable oil

1

cup (about 6 oz)

frozen green peas or edamame, thawed

1

Flavoring sauce,

See below

2

tablespoons

cornstarch mixed with 1/4 cup water
Vegetables
Bell peppers—cut into medium-large dice

Snow peas or sugar snap peas—strings removed, if not already done

Medium asparagus—tough ends snapped off, stalks cut into 1-inch lengths

Sliced mushrooms

Brussels sprouts, halved

Celery—sliced crosswise into 1/2-inch piece

Eggplant, Zucchini, and yellow squash—trimmed and cut into medium dice

Carrots—peeled and cut into thick coins

Green Cabbage—quartered, cored, and cut into medium dice

Winter Squash, peeled and cut into medium dice

Thin green beans (haricots verts)—trimmed

Canned water chestnuts— drained

Canned baby corn— drained
General Tso's Stir-Fry Sauce
6

tablespoons

dark soy (or in a pinch 3 tablespoons each: molasses and soy sauce)

3

tablespoons

each: rice wine vinegar and sweet sherry

1/2

teaspoon

hot red pepper flakes
Basil (Or Cilantro) Stir-Fry Sauce
3/4

cup

vegetable broth

6

tablespoons

soy sauce

2

tablespoons

each: rice wine vinegar and sesame oil

1/2

cup (packed)

chopped fresh basil leaves or cilantro leaves
Coconut Curry Sauce
2

tablespoons

each: sweet sherry and soy sauce

4

teaspoons

brown sugar

1

tablespoon

curry powder

3/4

cup

light coconut milk
Instructions
Heat oven to 500 degrees and set a large (18- by 12-inch) rimmed baking sheet into the preheating oven. Prepare vegetables and onion. Mix soy, sherry, honey, garlic, and ginger and oil in a large bowl. Add vegetables and toss to coat, breaking up onions (and cabbage, if using).

Remove baking sheet from the oven and dump the vegetables into the hot pan, shaking to spread evenly. Immediately return pan to the oven and roast until vegetables are crisp-tender, about 7 minutes. While vegetables cook, prepare Flavoring Sauce and mix cornstarch and water.

Remove pan of vegetables from the oven. Working quickly, add peas or edamame to the pan and pour sauce over the vegetables; stir to coat. Drizzle cornstarch mixture over the vegetables; stir to coat again. Return pan of vegetables to the oven and continue to cook until sauce is bubbly and thickened slightly, about 5 minutes longer. Remove from oven; stir to coat vegetables with sauce and serve.
Flavoring Sauces (Your Choice!)
General Tso's Stir-Fry Sauce
Whisk together with 1/2 cup of water.
Basil (Or Cilantro) Stir-Fry Sauce
Mix all ingredients in a Pyrex measuring cup and set aside.
Coconut Curry Sauce
Mix all ingredients in a Pyrex measuring cup and set aside.