---
This is a Root Formula, a simplified recipe that shows which ingredients are core and which can be changed to create different flavor combinations or use what you have on hand.
See our Variations on this Homemade Granola Bar Formula below.
---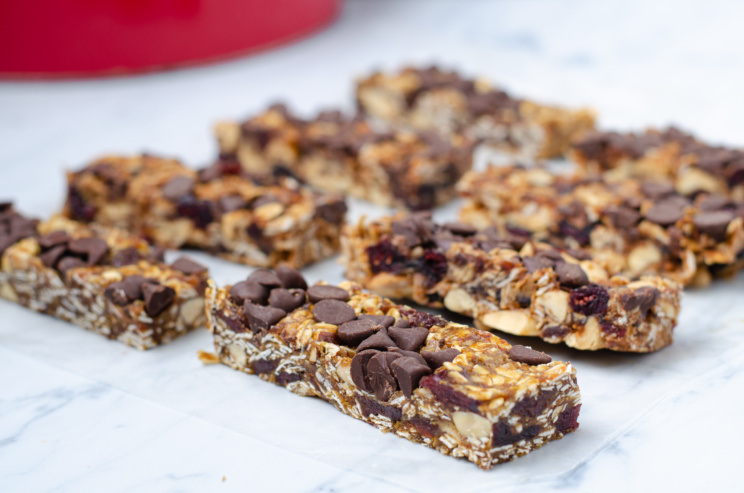 For years, Maggy, her sister Sharon, and I blogged at Three Many Cooks. I distinctly remember the four-ingredient recipe we developed entitled Cherry-Walnut-Coconut Bites, offering a simple, yet good-for-you anytime treat. We were guided by the short ingredient list and super-easy preparation as we developed our no-bake Planetarian granola bar.
Making Homemade Granola Bars EASY
We started by adding oats, the foundation ingredient in classic granola bars. We like ours toasted. Just as toasted nuts are more flavorful than raw, toasted oatmeal is also more flavorful. But just know that if you're in a hurry, you can skip the toasting step and still make a great granola bar.
If oats are the foundation, dates are the glue. Simply toss them in the food processor and puree, which happens within seconds. Two tips: first, make sure the dates are pitted before processing them. Second, make sure the dates are moist. If they're old and hard, they won't break down. But if you pour boiling water over them, soak for ten minutes, and drain them, they'll soften to a puree-able state.
Flavor Variations
Just as most store-bought granola bars offer a variety of flavors, home-made granola bars can be varied. The remaining ingredients in this granola bar formula can be changed, depending on what you've got around and what you've got a taste for.
The customizable ingredients start with nut butter. Peanut butter is the most common of the nut butters, but there are so many other options. We've developed three granola bars, each calling for a different nut butter. We use peanut butter, almond, and pistachio—but there's cashew, hazelnut, and mixed nut butter to consider.
Then, take your pick of the three sweetener options: honey, maple syrup, and agave.
Next up are nuts. Nuts are as varied as the butters, but they all work great. Consider trying almonds, pistachios, peanuts, pecans, cashews, hazelnuts.
And finally, dried fruits. As with nuts and nut butter, whatever you've got or whatever you like will probably work well. We like to use raisins, dried cranberries, apricots, figs, prunes, or cherries.
Chocolate or No Chocolate?
We think chocolate chips make the bars. You can use dark, milk, or white chocolate chips. But you can omit them if you want. Without chocolate chips, you'll want to increase the nuts and dried fruit to 3/4 cup each.
You've got your formula and a few variations. Now go play!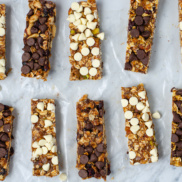 Homemade Granola Bars (A Root Formula)
Recipe Notes
*If you're in a hurry and want to skip toasting the oats, you may.
This is a Root Formula, a simplified recipe that shows which ingredients are core and which can be changed to create different flavor combinations or use what you have on hand. We've created several Variations on this formula below- try our suggested flavor combinations or make your own!
Ingredients
1 1/2

cups

rolled oats

8

ounces (a heaping cup)

soft, pitted dates

1/4

cup

nut butter, your choice

3

tablespoons

maple syrup, honey, or agave (see below for suggested combinations)

Flavoring (e.g., vanilla or almond extract),

optional

1/2

cup

each: nuts and dried fruit (see below for suggested combinations)

1/4

cup

chocolate chips
Instructions
*Adjust oven rack to lower-middle position and heat oven to 350 degrees. Fit a 16- by 8-inch sheet of parchment or waxed paper into an 8- by 8-inch pan bottom and up the two sides, using overhang as a handle to pull bars from pan. Spray with vegetable cooking spray.

Toast oats on a small, rimmed baking sheet until golden brown, 10 to 15 minutes; dump into a large bowl.

Meanwhile chop dates in a food processor until pureed into a sticky ball; add to oatmeal. Heat nut butter and sweetener in a small saucepan over low heat until hot, whisking to combine. If adding a Flavoring, whisk it in now. Add to oatmeal and dates, along with nuts and dried fruit of choice. When cool enough, mix with hands to thoroughly combine. Turn into prepared pan, using oiled fingertips to press mixture, more or less, into pan. Sprinkle chocolate chips evenly over mixture and use a drinking glass bottom or similar item to press chips into bar mixture and level it to even thickness. Can be refrigerated or frozen, but bar mixture is solid enough at this point to remove from pan and cut into 12 bars by halving and then cutting each half into sixths.
Suggested Variations
Trail Mix Granola Bars
Follow recipe for Homemade Granola Bars using
Peanut butter for the

nut butter

Raisins or dried cranberries for the

dried fruit

Semi- or dark chocolate chips
(There is

no Flavoring

in this variation)
Granola Bars with Pistachios and Dried Apricots
*If you can't find pistachio butter, substitute almond or cashew butter.
Follow the recipe for Homemade Granola Bars using
Pistachio butter for the

nut butter

1 1/2 teaspoons finely grated orange zest for the

Flavoring

Dried apricots, cut into small dice, for the

dried fruit

White chocolate chips
Chocolate-Cherry Granola Bars
Follow recipe for Homemade Granola Bars using
Almond butter for the

nut butter

1/4 teaspoon almond extract for the

Flavoring

Dried cherries for the

dried fruit

Dark chocolate chips