Until now, we thought of quesadillas as lunch food, snack bites, and appetizer nibbles. No longer! The quesadillas we've developed are a complete meal. We start with generous portion of refried beans quickly flavor-enhanced with salsa and smoked paprika. Then we add a layer of crowd-pleasing vegetables—your choice of sautéed peppers and onions, mushrooms, garlicky spinach, or corn. Finally, top it all generous sprinkling of chopped cilantro, and enough plant or dairy cheese to add flavor and goo. All stuffed between two griddled flour tortillas, this plant-based dinner is so filling and satisfying.
In the process of developing Dinner Quesadillas, we learned that the larger ten-inch flour tortillas are unwieldy and awkward to flip. Stick with eight-inchers. We also discovered that not only do refried beans add filling protein, they also act as the culinary glue that hold the quesadilla all together. That's why it's important to spread the mashed bean paste over both tortillas. Spreading the refried beans over both means you don't need as much rich cheese, the usual quesadilla culinary glue.

Quesadillas are a little like pancakes or waffles. Because they must be cooked in batches, it makes it difficult for everyone to sit down and enjoy the meal together. We figured out that if you've got a griddle, which accommodates three quesadillas, and a medium skillet, you can cook four at one time, which makes for a relaxed meal.
Leftover Quesadillas
We always thought leftover quesadillas were edible, but not great. We thought wrong. In fact, re-griddled quesadillas are as good as first-timers, fresh from the pan. Unadorned, these are delicious, but they're even better with salsa, simple guacamole, and plant or dairy sour cream.
Going forward, we will still serve them for lunch and nibbles, but we're enthusiastically adding them to our dinner repertoire as well.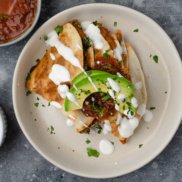 Dinner Quesadillas
Recipe Notes
Serve these hearty stuffed tortillas with your favorite salsa and hot sauce and avocado or a simple guacamole—just fork-mash an avocado or two and flavor to taste with fresh lime juice and salt.
Ingredients
1

pound

vegetable filling

(see below)

1

can (16 oz)

vegetarian refried beans

1/4

cup

salsa,

your choice

2

teaspoons

smoked paprika

Salt and ground black pepper

8

8-inch

flour tortillas

1/2

cup

chopped fresh cilantro

4

ounces

shredded sharp cheddar, dairy or plant-based
Instructions
Prepare vegetable of choice (see below). Mix refried beans with salsa, smoked paprika, and a light sprinkling of salt and pepper. Meanwhile, set a griddle over 2 burners on medium-low and a medium (10-inch) skillet on medium-low.

Spread a thin layer of beans over each tortilla. Scatter vegetable(s) of choice over 4 of the tortillas, sprinkle with cilantro, and then cheese; cap with remaining tortillas. Place three of the tortillas on the griddle and the fourth tortilla in the skillet. Cook until bottom is golden brown and crisp, about 5 minutes. Flip the tortillas and continue to cook until crsip and golden brown on the remaining side. Transfer to a cutting board, cut into wedges and serve immediately.
Spinach Quesadilla 
Microwave a 1-pound package of frozen spinach until thawed, 3 to 4 minutes. Squeeze excess moisture from the spinach and stir in 2 tablespoons of olive oil, 1 minced garlic clove, and a sprinkling of salt and pepper.
Corn Quesadilla
Microwave 8 ounces (scant 2 cups) of frozen corn until thawed, 2 to 3 minutes. Stir in 1 tablespoon of olive oil, 1 to 2 thinly sliced scallions, and a sprinkling of salt and pepper. 
Sautéed Peppers and Onions Quesadilla
Heat 2 tablespoons of oil in a large (12-inch) skillet over medium-high heat. Add 1 medium-large bell pepper, stemmed, seeded, and thinly sliced and 1 medium-large onion, thinly sliced; sauté until tender and golden, 6 to 8 minutes. 
Sautéed Mushrooms Quesadilla
Heat 2 tablespoons of oil in a large (12-inch) skillet over medium-high heat. Add 1 pound thinly sliced mushrooms; cook without stirring for about 5 minutes. Stir and then continue to sauté until well browned, about 5 minutes longer.