---
This is a Root Formula, a simplified recipe that shows which ingredients are core and which can be changed to create different flavor combinations or use what you have on hand.
See our Variations on this Formula below.
---
This Root Formula can be used to create whatever flavor combinations you want, but if you're looking for inspiration, try some of the Variations we've created. We love to flavor it up with Shakshuka Flavorings, Kalamatas and Spinach, or  Sun-Dried Tomatoes and Escarole.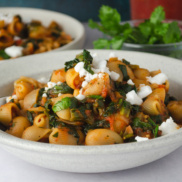 One-Pot Pasta (A Root Formula)
Recipe Notes
One-Pot Pasta easily halves, but the leftovers are so good (and they're not the kind you tire of easily), you may want to make the full recipe.
Onions make just about every dish better, but if you don't have time to chop and sauté it, leave it out. Between the garlic in the tomato sauce, the flavorings, and the dried and fresh herbs, this dish is plenty flavorful enough.
To simplify the recipe even further, substitute a package of thawed chopped frozen spinach or kale for the fresh. Whatever size package of frozen greens your store carries (up to 1 pound), just add it all.
Ingredients
2

tablespoons

olive oil

1

large

onion,

cut into medium dice

1

pound

small pasta,

such as ditalini or orzo (Bite-size pasta works well too.)

1

quart

Garlicky Tomato Sauce (see instructions within our recipe for Vat of Simple Tomato Sauce)

or good quality store-bought marinara

2

cans (15-16 oz each)

white or garbanzo beans,

drained

1

cup

Flavorings
Dried Herbs/Spices

1 1/2

teaspoons

salt

12

ounces (packed 2 quarts)

Prepared Greens, such as spinach, escarole, or kale

1/2 to 1

cup

Cheese,

optional

1/4

cup

Fresh Herbs,

optional
Instructions
Heat oil over medium-high heat in a large soup kettle. Add onion; sauté until translucent, about 5 minutes. Add pasta, sauce, 1 quart of water, beans, Flavorings, and Dried Herbs/Spices of choice, and salt, and bring to a simmer. Reduce heat to medium-low, cover, and cook until pasta is almost tender and most of the liquid has absorbed, 8 to 10 minutes, depending on pasta shape. Stir in greens of choice, optional Cheese, and/or Fresh Herbs. Re-cover pot and continue to cook until liquid has absorbed and pasta is tender just a few minutes longer. Serve with an additional sprinkling of cheese, if you like.