---
This is a Root Formula, a simplified recipe that shows which ingredients are core and which can be changed to create different flavor combinations or use what you have on hand.
See our Variations on this Formula below.
---
I have always loved stir-fry but there is so much prep and so many steps that it's nearly impossible to pull off on a weeknight. I was recently looking through Milk Street magazine and was drawn to a simple one-column recipe called Butter-Soy Vegetable Stir-Fry. We made it, we loved it, and (in our opinion) we improved upon it. We added edamame for protein, doubled the vegetables, thickened the sauce, and used oil instead of butter.
You can use this Root Formula to make Stir Fry using whatever vegetables you have on hand. Our favorite Variation right now is Snow Peas and Mushrooms.
Toppings are KEY for Vegetable Stir-Fry
One of the most time-consuming aspects of a stir-fry is building layers of flavor. But, here's the life hack, especially if you want to make simple plant-rich meals quickly: toppings are incredibly important to eating well. They add flavor and texture with virtually no prep and no extra dishes.
In a traditional vegetable stir-fry there would be a half dozen ingredients to add flavor to the dish. Instead, here we use only ginger and soy, then add toppings to amp up the flavor. Our favorite toppings are scallions, cilantro, hot sauce, toasted sesame seeds, sesame oil, chili crisp! This recent addition of chili crisp to our pantry has revolutionized our enjoyment of dishes with an Asian flavor profile. Unlike the name suggests, it has virtually no heat but just a couple teaspoons adds an addictive salty, crunchy savoriness to the entire dish.
Top it with tofu
If you make this stir-fry with a simple Pot of Rice, it's a satisfying meal on its own. But if you want a more substantial dinner, you can easily make our simple seared Tofu which goes perfectly with this meal.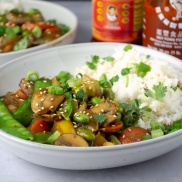 Everyday Vegetable Stir-Fry (A Root Formula)
Recipe Notes
Serve with a big pot of rice and some or all of the following *toppings: sliced scallions, sesame oil, sesame seeds, chili crisp, sriracha, chopped cilantro.
If you can't find edamame, substitute lima beans.
Ingredients
6

tablespoons

neutral oil such as grapeseed or canola

1

large

onion,

halved and sliced thin

2

tablespoons

finely grated ginger

2

pounds

Prepared Vegetables,

see below

2

cups (5 oz / cup)

frozen, shelled edamame, thawed

1/2

cup

each: soy sauce and water

1 1/2

teaspoons

cornstarch dissolved in 1 tablespoon water
Prepared Vegetables
You probably know instinctively which vegetables to use, but here's a list of some of the more obvious:

Broccoli: broken into florets (large florets cut into bite-size pieces), stem peeled and sliced thin
Cauliflower: broken into florets (large florets cut into bite-size pieces )
Carrots: peeled and sliced thin
Bell peppers: any color, stemmed, seeded, and cut into short strips
Mushrooms: sliced thin
Green cabbage: halved, cored, and sliced thin
Asparagus: tough ends snapped off, thick spears: halved lengthwise and cut into 1-inch pieces; thin spears: cut into 1-inch length
Snow peas or sugar snap peas: remove strings if necessary; halve, if large
Instructions
Heat oil in a large heavy-duty roasting pan over high heat. When pan is hot, add onion and cook until crisp-tender, about 1 1/2 minutes. Add ginger; cook until fragrant, about 30 seconds longer. Add Vegetables and cook, stirring occasionally, until crisp-tender, 3 to 4 minutes. Add edamame; cook to warm through, about a minute longer.

Stir in soy mixture; cook until reduced by about half, a couple of minutes. Stir in cornstarch mixture; cook until sauce thickens slightly, about another minute. Serve immediately with rice and suggested toppings*.