This year, I'm not making pumpkin pies for Thanksgiving. I understand that our family is unusual. The fact is (except the for the kids) none of us really craves dessert, especially after a day of celebrating and a big festive meal. For years I've baked pies and crisps, cheesecakes, and cobblers—good ones too. I get enthusiastic oohs and aahs as they emerge from the oven, but by day's end everyone has had their fill, and the desserts are barely touched. So this year, I'm not putting in the work for a pie nobody will touch. Instead, I have decided to make what everyone actually wants: a small ramekin of baked pumpkin pie filling—just a couple of bites. I'll top the pumpkin custard  with a little dollop of whipped cream and a dusting of cinnamon.
To that end, I have developed a recipe for Baked Pumpkin Custard aka pumpkin pie filling. Given that my go-to pumpkin pie filling consists of several eggs and evaporated and condensed milks—the only other ingredients are canned pumpkin and spices—I thought it would be more of a challenge.
Plant-Based Pumpkin Custard
Turns out, it was easier than I thought. In place of the eggs, I use combination of silken tofu and cornstarch. I frequently rely on silken tofu to make plant-based mayonnaise and scrambled "eggs." It offers body and richness while the cornstarch acts as a thickener. A little plant butter further enriches the mix and vanilla extract rounds out the traditional pumpkin pie spices.
These Baked Pumpkin Custards taste great, and the baking process is so much simpler than traditional dairy custards. Without a water bath, eggs in classic custard typically break, resulting in a grainy texture. These custards? —just toss them in the oven, no water bath required. I'm seriously making Baked Pumpkin Custards this year. Just look at the ingredient list and instructions. Care to join me?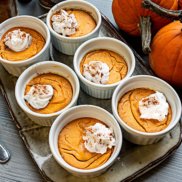 Baked Pumpkin Custards
Recipe Notes
Serve with dairy or plant whipped cream and a dusting of cinnamon.
Ingredients
1

can (15 1/2 oz)

pumpkin puree

2

tablespoons

cornstarch

1/2

teaspoon

each: cinnamon and ginger

1/8

teaspoon

each: nutmeg cloves, and fine salt

10

tablespoons (1/2 cup plus 2 tablespoons)

brown or coconut sugar

8

ounces

silken tofu

2

tablespoons

plant creamer, whole milk, or half and half

3

tablespoons

softened plant or dairy butter

2

teaspoons

vanilla extract
Instructions
Heat oven to 350 degrees. Bring pumpkin, cornstarch, spices, and salt to a sputtery simmer, stirring frequently, in a medium saucepan. Continue to cook, stirring constantly, until mixture starts to stick to the bottom of the pan; Stir in sugar and remove from heat.

Meanwhile, puree tofu and creamer in a food processor or blender until silky, stirring down the sides as needed. Add pumpkin puree; process until completely blended and silky smooth. Add butter and vanilla; process until well incorporated. Turn a portion of the pumpkin mixture into each of 6 custard cups; bake until set, about 20 minutes.

Remove from oven and let stand until warm or room temperature. Serve.