---
This is a Variation on a Root Formula, a simplified recipe that shows which ingredients are core and which can be changed to create different flavor combinations or use what you have on hand. See our other See our other easy granolas at the bottom of the Root Formula page.
---
Life is so much easier when you've got the makings of good meals around the kitchen. In our house, making a batch of this easy granola every couple weeks is a worthy investment of time. It produces a large tin that doesn't stay full for long. On mornings when there's not time to make breakfast; when people start poking around for a mid-afternoon snack; or when you just need a handful of somethin' to tide you over, a jar full of homemade granola is miles more satisfying than a piece of toast or bowl of cereal. Below, we give you some suggestions, but what's awesome about this formula is that you can create your own favorite combination or switch it up with the seasons.
A note on dried fruit
We have been making granola for years and have tried a couple ways of adding dried fruit  – either adding it in halfway through the bake time or adding it to the tin after everything has baked and cooled. But, the problem is that dried fruit runs the spectrum from plump and almost juicy to dried and desiccated depending on the fruit, the brand, and freshness.
Adding dried fruit during baking can result in either super dry dried fruit or stale-textured granola. To make it perfectly crisp with perfectly textured dried fruit, we prefer adding the dried fruit to the bowl just before serving. If you prefer to bake it all together, simply stir in the dried fruit at the 30 minute point when you remove it from the oven to stir it.
Try warming your milk
During the cooler months we often warm our milk (we prefer oat milk) before pouring it over the granola. All the comfort of oatmeal with the satisfying crunch of granola!
Fun granola toppings
Because this makes for such an easy breakfast, we take the time to set out a few fun toppings and stir-ins to make our bowl a little more interesting:
Nut butter
Jams
Extra roasted nuts or seeds
Fresh fruit, cut into bite-sized pieces
Mini chocolate chips
Other Ultimate Granola Variations
This granola is made from a formula so you can refer back to the root formula to experiment with your own flavor combinations. So far, we've developed:
Trail Mix Granola
Ultimate Black Forest Granola
Ultimate Pumpkin-Spiced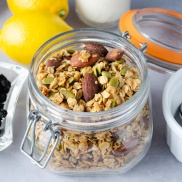 Ultimate Granola with Lemon and Coconut
Recipe Notes
Ingredients
5

cups

old-fashioned oats,

divided

1

cup

whole roasted almonds

1

cup

each: pepitas (pumpkin seeds) and flaked coconut

4

teaspoons

finely grated lemon zest

1/2

cup

maple syrup

2

tablespoons

molasses

1/2

cup

coconut oil or other neutral oil,

such as vegetable

1/4

cup

water

1/2

teaspoon

salt

dried blueberries for topping
Instructions
Adjust oven rack to middle position and heat oven to 275 degrees. Measure 4 cups of oats in a large bowl; place remaining 1 cup in a blender or food processor canister and grind to a meal texture. Add ground oats to the large bowl, along with pepitas, coconut, and lemon zest. Meanwhile, bring syrup, molasses, oil, water, and salt to a simmer in a small saucepan over medium-low heat. Pour liquid mixture over oat mixture; stir to combine.

Turn oat mixture onto a large (18- by 12-inch) rimmed greased baking sheet, shaking pan to evenly spread it; bake for 30 minutes. Remove pan from oven and stir the granola. Continue to bake until impressively golden brown, 20 to 25 minutes longer. Remove from oven and let cool to room temperature. (Can be store in an airtight tin or jar up to a month.) When serving, top with the dried blueberries.