No-Bake Chocolate-Almond Tart is probably one of the classiest, simplest, most popular desserts we've ever made. This is not just a sales job. This dessert has really got it all.  Keep reading.
Gluten-Free
For your gluten-free and celiac guests, there's not an ounce of flour in the recipe. Finely ground salted almonds, in combination with cocoa powder, coconut oil, and maple syrup—make up the no-bake crust.
Plant-Based/ Vegan
There are no eggs in this dessert, and the ganache is made with coconut milk instead of heavy cream, so if you use vegan chocolate chips, there's not an ounce of dairy in this tart, making it perfect for the lactose-intolerant and vegans in your group.
Because it's made in a fancy little tart pan, the dessert looks like a fine French convection. And chocolate lovers from toddlers to octogenarians crave more than their share.
You don't even have to turn on the oven to make it, and once you're done serving it, leftovers thrive in the freezer. When you get a craving for a little square of chocolate, just pull the remains out of the freezer, cut off a nice chunk, and simply return it to the freezer. (No one will ever know!)
Easy & Quick Chocolate Tart!
Since there's no baking involved, the tart comes together super quick. Start by making the almond crust in the food processor, pressing it across the parchment-lined bottom and up the sides of a tart pan with a removable bottom. Pop it in the freezer while you make the ganache.
By the time you've whisked the melted the chocolate with the heated and flavored coconut milk, the crust has hardened enough to form the edible vessel for the chocolate. Before pouring the chocolate over the crust, toss in a few extra roasted, salted nuts for an irresistibly better-than-an-Almond Joy- experience.
If you want to class it up even more, toast up a few sliced almonds for garnishing the border.
These days, given how many GF and lactose intolerant folks we host, this dessert is nearly always on the menu, and since it freezes so well, it's easy to slice off a portion at a moment's notice. See. We didn't oversell it.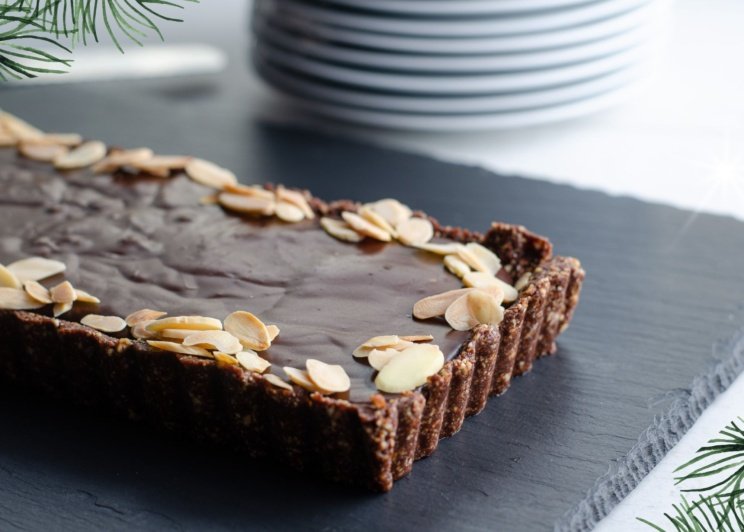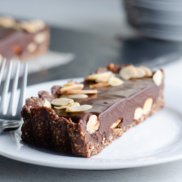 No-Bake Chocolate-Almond Tart
Recipe Notes
If you choose to garnish the tart with sliced almonds, toast them in a small skillet over low heat until golden brown, about 5 minutes. Let cool before garnishing the tart.
Ingredients
2

cups

roasted, salted almonds,

divided

3

tablespoon

each: cocoa powder and coconut oil

2

tablespoons

maple syrup

12

ounces

(scant 2 cups) vegan or dairy bitter - or semisweet chocolate chips

3/4

cup

full-fat coconut milk

1

teaspoon

each: vanilla extract and instant coffee

1/4

cup

toasted sliced almonds for garnish,

optional
Instructions
Finely grind 1 1/2 cups of the almonds in a food processor. Add cocoa powder, coconut oil, maple syrup; pulse to combine. Evenly press almond mixture into and up the sides of a oil-sprayed 13- by 4-inch or an 8-inch round tart pan whose removable bottom has been lined with parchment and sprayed as well; freeze to firm up while making chocolate ganache.

Place chocolate chips in a medium microwave-safe bowl. Microwave on defrost until just starting to melt, about 3 minutes. Heat coconut milk and coffee to a simmer in a small saucepan. Pour hot milk over chips, let stand a couple of minutes, and then whisk until smooth. Whisk in vanilla.

Evenly distribute the remaining 1/2 cup of almonds over the crust's surface. Pour warm chocolate over the almonds. Refrigerate to firm up, about 30 minutes. Can be covered and refrigerated a couple of days or frozen for a couple of months. When ready to serve sprinkle toasted sliced almonds around the perimeter and serve.