---
This is a Root Formula, a simplified recipe that shows which ingredients are core and which can be changed to create different flavor combinations or use what you have on hand.
---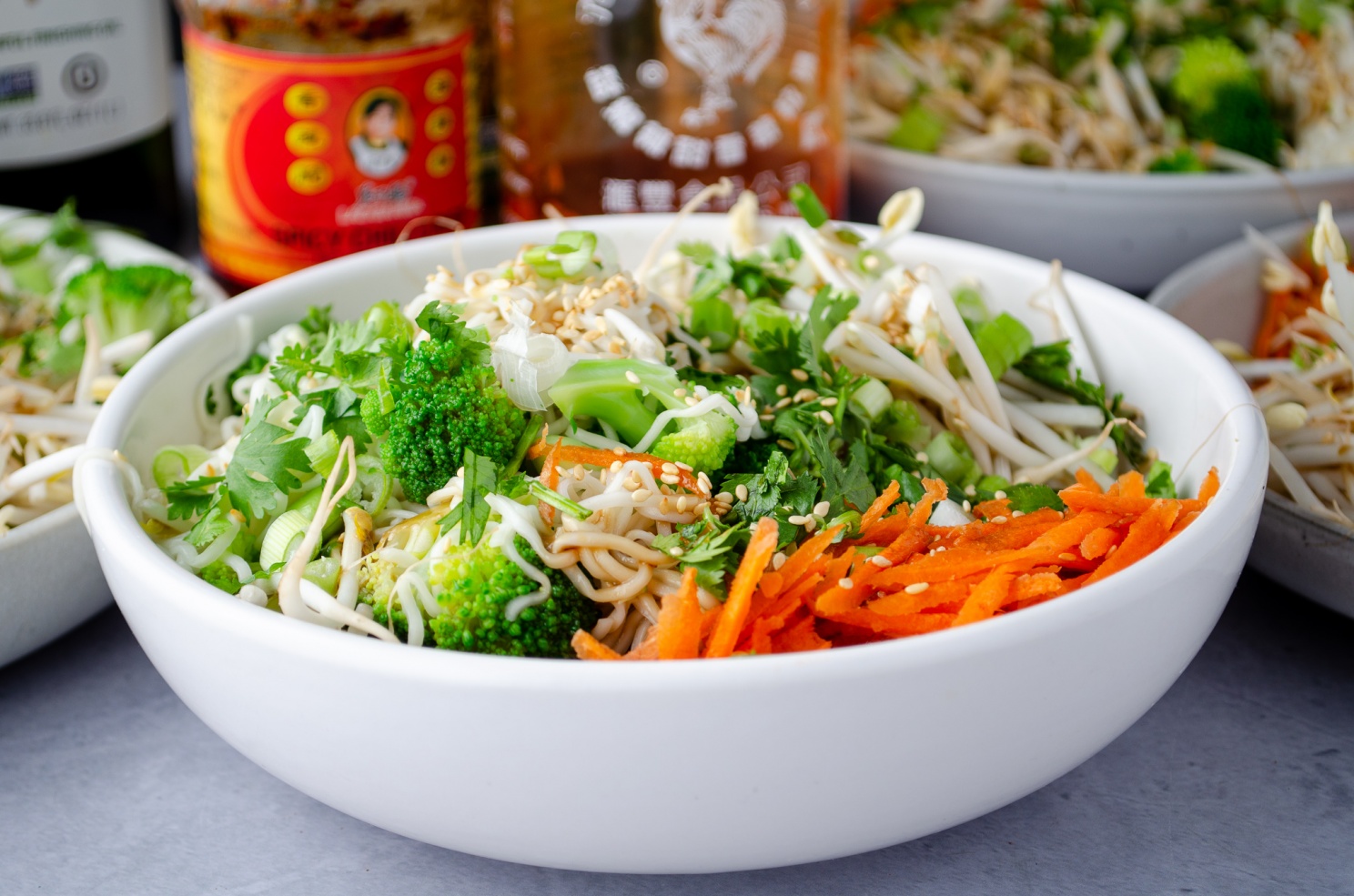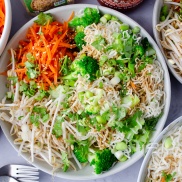 Quick Ramen Salad
 (A Root Formula)
Recipe Notes
*A-Sha brand noodles are available at Costco, Walmart, Amazon, among other places. You may use other brands, but they may have longer ingredient lists. If you don't want to use the flavoring packet, toss it and simply dress the salad with soy sauce and sesame oil.
Ingredients
4

packages (3 oz each)

ramen noodles (We prefer A-Sha brand)

1

cup

frozen edamame, green peas, or baby lima beans

1 1/2

pounds

prepared vegetables, your choice (see below)

Serve with some or all of the following: 4 thinly sliced scallions, 1/4 cup chopped fresh cilantro, 1/4 cup grated gingerroot, toasted sesame seeds, soy sauce, sesame oil, sriracha, and chili crisp.
Vegetables cooked with the noodles
Broccoli or cauliflower: cut into small bite-size florets, stems thinly sliced
Spinach, massaged kale, or other greens
Snow or sugar snap peas: strings removed and halved or cut into thirds
Greens beans: cut into bite-size lengths
Thinly sliced carrots
Brussels sprouts
Raw vegetables added during assembly
Grated carrots
Bean sprouts
Bell peppers of any color: stemmed, seeded, and cut into 1-inch strips
Cucumber: halved and thinly sliced
Radishes: halved, if large, and thinly sliced
Cabbage: quartered, cored, and very thinly sliced
Instructions
Bring 2 quarts of lightly salted water to boil in a large pot. Add noodles, edamame, and any vegetables that cook with the noodles. Use a fork to separate the noodles as they start to cook. When water returns to the boil, continue to cook until noodles are tender and vegetables are tender-crisp, about 2 minutes. Drain and run under cold running water. Let stand a minute or so to drain.

When ready to serve, divide noodle mixture among 4 wide, shallow bowls and arrange whatever raw vegetables you have chosen. Sprinkle with a portion of scallions, cilantro, and ginger. If using A-Sha brand, drizzle salads with flavor packet. If not using flavor packet, simply drizzle each salad with a little soy sauce and sesame oil to taste. Serve, setting out extra soy and sesame oil, toasted sesame seeds, sriracha, and chili crisp for passing.