---
This is a Root Formula for no-cook pasta sauce, a simplified recipe that shows which ingredients are core and which can be changed to create different flavor combinations or use what you have on hand.
---
This creamy No–Cook Blender Pasta Sauce is the quickest pasta sauce you'll ever make. Once you see how easy and delicious it is, we're betting it will become a regular weeknight dinner formula. If you have on hand one of the following: fresh spinach or tomatoes, canned artichoke hearts or jarred roasted red peppers, you can make enough sauce for a pound of pasta—from gathering the ingredients to tossing it with the pasta—in about five minutes. This sauce comes together so quickly, make sure to start boiling your pasta water before prepping the sauce.
Nutritional Yeast
The nutritional yeast contributes flavor, giving this sauce the umaminess you'd get with Parmesan cheese. You could substitute 1/2 cup grated Parmesan, but in fact, we prefer the nutritional yeast in this particular recipe. Its powdery texture keeps this uncooked sauce silky.
Adding Veggies
Since this no–cook pasta sauce is vegetable-based, you don't need another, but we like the bulk and substance a second vegetable adds to the dish. To keep it simple, however, we usually stick with two of our favorite frozen vegetables—peas and spinach. Peas are especially good with the Spinach and Artichoke Variations, while spinach is well suited to the Tomato and Roasted Red Pepper Variations.
No-Cook Sauce??
This room temperature sauce tossed with hot pasta results in a sauce that's not too hot and not too cold—just the kind of warm you want for a sunny summer supper. And if there happen to be leftovers, they re-heat well. Just add a little water and warm it gently stove-top, seasoning with additional salt and lemon juice.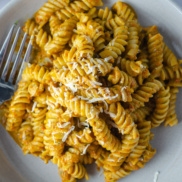 No-Cook Blender Pasta Sauce (A Root Formula)
Recipe Notes
Toss this utterly simple pasta sauce with your favorite bite-size pasta. Make sure your pasta water is well-salted, about 1 tablespoon regular salt per generous 2 quarts of water. Save some of the pasta cooking liquid in case you need to thin the sauce when tossing it with the pasta.
To add substance and interest, add 8 ounces (about 2 cups) of frozen peas or a 16-ounce package of frozen spinach to pasta the last few minutes of cooking.
*A mix of herbs is great. No need to measure, just toss in a handful. One of our favorites combos is basil and oregano. Lead with basil and use a little of the stronger oregano as an accent.
Ingredients
8

ounces

Vegetables

1

ripe avocado,

halved, pitted, and peeled

1/2

cup

plant-based creamer,

such as oat

1/2

cup

packed mixed *Soft Fresh Herbs:

dill, parsley, mint, basil, chives, cilantro, oregano

1/4

cup

each: lemon juice,

olive oil, and nutritional yeast

3

medium garlic cloves

Salt and ground black pepper
Instructions
Place all ingredients, including a generous sprinkling of salt and pepper, in a blender or food processor; process until pureed. Taste and adjust seasonings.