---
This is a Root Formula, a simplified recipe that shows which ingredients are core and which can be changed to create different flavor combinations or use what you have on hand.
---
Maggy. Loves. Bowls. I do too, but she really does. She's always saying, "Let's develop a ramen bowl. How about a glass noodle bowl? Could we offer a southwestern bowl? I love our Indian bowl!"
It was on her flight to California that Maggy texted with her latest bowl idea—poke bowls. Perhaps it was her relatively close proximity to Hawaii that brought on the sudden inspiration. With its scoop of warm rice, bits of cold sushi, sliced crisp vegetables, and spicy sriracha mayo, this bowl was perfect summer fare.
Fish Flavor without the Fish
As I started to think about a Planetarian version, I remembered our Chickpea "Tuna" Salad, a good stand-in for the sushi. After figuring out the fish piece, the rest was easy. If you want the fish flavor, you'll need to purchase dulse flakes, which you can buy online or in most all health food stores. These flakes are good to have on hand for this recipe or our Chickpea "Tuna" Salad.
Perfect Rice as the Base
Start by making a pot of rice. Remember the formula—2 cups rice, 3 cups water, 1 tsp. salt, 1 Tbsp. fat.
Sauce and Dressing
Don't make two separate dressings—one for the salad, and the sriracha mayo drizzle. Instead, start by mixing the mayo and sriracha and pulling off what you need for the drizzle. Add the dressing ingredients to the remaining sriracha mayo and toss it with the blitzed chickpeas.
Assembling Your Tuna Poke Bowl
After you prep a few refrigerator veggies, it's just assembly. Spoon warm rice and chilled chickpea tuna salad into a bowl. Arrange veggies, top with scallions, sesame seeds, sriracha mayo, and serve.
Poke bowls are great year-round, but they're especially perfect this time of year.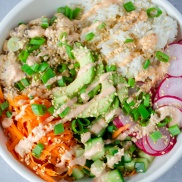 Chickpea "Tuna" Poke Bowl (A Root Formula)
Recipe Notes
Because you're not using delicate seafood, make a full recipe. You'll appreciate the leftovers in the coming days.
You can use a wide variety of vegetables, but there's no more colorful combination than sliced cucumbers and radishes and grated carrots.
Ingredients
2/3

cup

Vegannaise or mayonnaise

3

tablespoons

sriracha

2

tablespoons

each: dulse flakes and freshly grated ginger

1

tablespoon

each: soy sauce,

rice vinegar, sesame oil, and agave

2

cans (15-16 oz each)

Chickpeas,

drained

1/2

cup

each: sliced scallions and celery

2 to 3

cups

Prepared Vegetables,

your choice of combination, see below

1

avocado,

halved, pitted, peeled, and thinly sliced

Toasted sesame seeds & thinly sliced scallions
Prepared Vegetables
Thinly sliced radishes

Thinly sliced cucumbers

Quartered, cored, and thinly sliced cabbage or grated carrots

Bell peppers, cored and cut into bite-size strips
Instructions
Meanwhile, mix mayonnaise and sriracha; set aside 3 tablespoons of the sriracha mayo for the dressing. Mix dulse flakes, ginger, soy, vinegar, sesame oil, and agave into the remaining mayo mixture.

Pulse chickpeas in a food processor until it is a mix of coarsely and finely chopped. Turn into a medium bowl and add the mayonnaise mixture, along with the scallions and celery; toss to combine. Refrigerate to set up and chill while preparing the vegetables and avocados.

To serve, spoon a portion of rice and the chickpea mixture into each of 4 to 6 bowls. Arrange vegetables and avocado over each bowl. Sprinkle with sesame seeds and scallions, drizzle with sriracha mayo dressing, and serve.