After a few years of eating Planetarian, we find it easier and easier to eat plant-rich, but it's the holidays we still find challenging. It's hard to stop seeing the Norman Rockwell image of Mama presenting the holiday turkey to the patriarch. What, we wondered, could be the impressive Planetarian dish that stands in for that big holiday roast? After much research and testing, we're offering beautiful Festive Roast Pumpkins, stuffed with a wild rice blend, mushrooms, spinach, pecans, cranberries and bound by a plant-based bechamel. 
There was a time when it would have been difficult to offer up a recipe for Festive Roast Pumpkins. The little sugar or pie pumpkins for stuffing just weren't that readily available. This year, they seem to be everywhere. In fact, we've already bought and are storing our little pumpkins in our chilly garage for the big holiday feast. 
Side Dish or Main Course
The great thing about Festive Roast Pumpkins is that they do double duty, offering a beautiful, delicious, hearty main course for the Planetarians, vegans, and vegetarians at the gathering. But when halved or quartered, they serve as lovely side dish.
Know that small baking pumpkins range dramatically in size. Buy what is available, but if you have a choice, opt for the smaller ones—about 1 1/2 pounds. If you can get them smaller than that, even better, but you may want to pick up a few extra pumpkins to hold all the filling. 
You'll need to roast the pumpkins before stuffing them, which cooks out some of their moisture. It's also important to season them with oil, salt, pepper, and a little dried thyme. The roasting plus the seasoning transforms them from boring vessel to delicious vegetable. The pre-roast gives you time to make the filling. Of course, you can roast the pumpkins and store them in a cool spot a day or two before stuffing
Make Roast Pumpkins ahead
You can roast and stuff the pumpkins several hours before baking them. 
Besides roasting the pumpkins, you'll need to cook rice, sauté the mushrooms and spinach, toast nuts, and grate cheese, all of which can be made ahead. All that's left on the big day is to make the bechamel and toss the ingredients shortly before stuffing the pumpkins. 
This year, when the turkey and Festive Roast Pumpkins arrive at the holiday table, we're guessing all eyes will be on the pumpkins!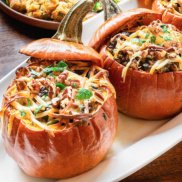 Festive Roast Pumpkins
Recipe Notes
Our rice blend was a mix of white, brown, wild, and red which typically takes 45 to 50 minutes to cook. The rice in our blend was clearly par cooked as the instructions suggested a 15-minute cooking time. If the blend you select has a different cooking time, follow the package instructions.
Ingredients
4

sugar pie pumpkins,

about 1 1/2 pounds each, tops removed; seeds and pulp scooped out

1/4

cup plus 2 tablespoons

olive oil

Salt and ground black pepper

1

cup

wild rice blend

1

teaspoon

dried thyme,

plus extra for sprinkling pumpkins

1

teaspoon

dried sage

1/2

pound

portabella mushrooms,

cut into small dice

1

medium-large onion,

cut into small dice

3

large garlic cloves,

minced

8 to 10

ounces (about 1 cup)

frozen cut leaf spinach,

thawed and squeezed dry

1

tablespoon

each: plant or dairy butter and flour

1

cup

plant cream,

such as oat

1/8

teaspoon

nutmeg

3/4

cup

dried cranberries

1

cup

toasted chopped pecans,

divided

4

ounces

grated gruyere cheese,

smoked (if you can find it), divided
Instructions
Heat oven to 400 degrees. Pour a scant tablespoon of oil into each pumpkin; brush interiors to completely coat, then season with salt, pepper, and a light sprinkling of dried thyme. Brush each pumpkin exterior and lid with remaining oil. Roast on a large, rimmed baking sheet, lids off and to the side, until just tender and golden brown, about 30 minutes. (Can be baked, cooled, covered, and refrigerated for couple of days; return to room temperature before baking.) Remove lids from baking sheet and set aside for topping pumpkins as they emerge from baking a second time.

Meanwhile, bring 1 1/2 cups of water, 2 teaspoons oil, and 1/2 teaspoon of salt to boil in a medium saucepan. Add rice, reduce heat to low, cover and simmer until rice is tender and water is absorbed, about 15 minutes. Turn off heat and let stand until ready to use.

Heat 2 tablespoons of oil over medium-high heat in a large skillet. Add mushrooms and cook without stirring until well browned on one side, about 5 minutes. Season with salt and pepper, stir, and continue to cook another minute or so. Add onions, garlic, another light drizzle of olive oil, and remaining thyme and sage; cook, stirring frequently, until onions have softened, about 4 minutes longer, stirring in spinach the last minute or so.

Melt butter in a medium saucepan over medium heat. Whisk in flour, then creamer and bring to a simmer. Season with nutmeg and a sprinkling of salt and pepper to taste.

In a large bowl, mix rice, mushroom mixture, cream sauce, cranberries, and 3/4 cup pecans, and all but 1/2 cup of the cheese. Mix thoroughly and taste, adding additional thyme, sage, salt, and pepper as needed. Fill each pumpkin with a portion of the rice mixture and top with a portion of the remaining cheese and nuts.

Reduce heat to 350 degrees. Bake, lids off, until filling has heated through about 45 minutes. Set reserved pumpkin lids on each pumpkin and serve.