---
This is a Variation on a Root Formula, a simplified recipe that shows which ingredients
are core and which can be changed to create different flavor combinations or use what you
have on hand. See our other variations at the bottom of the Root Formula page.
---
One of the first recipes we ever tested for Planetarian Life was a formula for vegetable fritters. How convenient to be able to use vegetables you have on hand – especially ones like carrots and sweet potatoes that last forever – and easily whip them into fritters in minutes. The original fritters were good, people enjoyed them, but they weren't quite perfect.
We went back to the recipe and took time to perfect them, because that's what we do – and now they're just right. These will certainly be a regular in our house from now on. They're good for any meal. We've even been enjoying them at breakfast. You can also make them ahead and reheat them in a hot skillet.
Why Chickpea Flour?
The all-purpose flour helps the fritters hold together, but we found using straight all-purpose, the fritters' texture was slightly gummy. Thus the reason for the all-purpose-chickpea combo. If you don't have chickpea flour, however, you can use straight all-purpose.
Chopping Veggies for Vegetable Fritters
You can chop the vegetable in one of two ways. If you have a food processor, cut the vegetable into medium chunks and pulse in a food processor until most of the vegetable is finely chopped. Dump on the counter and continue to chop until larger pieces are finely chopped. If you don't have a food process (or don't want to dirty one) simply hand chop.
Tester Feedback
One recipe tester said: "As much as I loved them, my mom loved them even more. She was low-key freaking out about how good they were and insisted I send her the recipe and then reminded me 30 minutes later that I hadn't sent it yet… then she sent me two emails about them."
Variations on Vegetable Fritters
I love them all, almost equally, but my favorite is the Curried Cauliflower Fritters. You can use this root formula with any combination of veggies/herbs/spices but here are the other three Variations we created for you to try: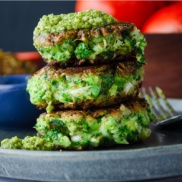 Basil Broccoli Fritters
Recipe Notes
You can chop the broccoli in one of two ways. If you have a food processor, cut the broccoli into medium chunks, separating the florets from the stems. Pulse the stems in a food processor until most of the stems are finely chopped. Add the florets; continue to pulse until entire mixture is finely chopped. If you don't have a food processor (or don't want to dirty one) simply hand chop.
You can cook the fritters in one of two ways. Twelve fritters fit perfectly in two medium (10-inch ) skillets, so if you have two, use them. Eleven fritters fit perfectly in a 12-inch skillet, so start by adding eleven to the pan and add the twelfth fritter after you flip the fritters when they are easier to move.
Serve these fritters with a little extra chopped basil and your choice of one of the pestos on Planetarian Life or your favorite.
Ingredients
1

pound (about 4 cups)

finely chopped broccoli crowns

1/2

cup

each: all-purpose and chickpea flour

1 1/2

teaspoons

baking powder

3/4

teaspoon

salt

1

teaspoon

dried oregano

1/2

cup

thinly sliced scallions or finely diced onion

1/4

cup

packed chopped fresh basil,

plus extra for sprinkling

1/2

cup

plant milk,

your choice

3

tablespoons

olive oil
Instructions
Heat a large (12-inch) skillet or 2 medium (10-inch) nonstick skillets over low heat. Chop broccoli (see note above).

Mix flours, baking powder, salt and oregano and add to broccoli, along with scallions and basil; toss to coat. Add milk; mix with hands to combine.

Using wet hands, divide mixture into 12 equal mounds and set on a baking sheet.

Before forming fritters, increase heat to medium-low and add 2 tablespoons of the oil to the large skillet (or 1 tablespoon each to the medium skillets). Reading note above, add the fritters and cook until impressively brown, 4 to 5 minutes. Turn fritters and continue cooking until second side is impressively brown, another 4 to 5 minutes, adding a littled rizzle of oil after turning them to keep them gently sizzling. Serve with pesto.